Ultimate Guide to Miami's Museums
Miami's arts scene has exploded over the last decade–particularly its museums with a few major additions to the cultural landscape. Here's your complete guide to the instiutions showcasing visual arts, Florida's history and its gardens. 
If you're visiting museums during May, take advantage of Miami Museum Month with special 2 for 1 admission offers and other discounts and promotions. 
Fine Art
Bakehouse Art Complex
561 NW 32nd St., Miami
305-576-2828
E-mail: info@bacfl.org
Open daily noon-5pm
Admission: Free
Founded in 1986, this 1920's bakery-turned-art complex is home to about 60 affordable studios where professional artists can create and exhibit. The facility has its own workrooms for sculpting, ceramics jewelry-making, printing and film development, plus two exhibition galleries and classrooms for workshops with visiting artists. If you like what you see, you can buy it directly from the artist in their studio. Resident artists also display their work at art fairs, museums shows and through special collaborations. Through their work at the Bakehouse they are notified of public artwork calls, workshops, grants and special collaborations.
Bass Museum of Art
2100 Collins Ave., Miami Beach
305-673-7530
Currently closed for renovations; museum re-opens December 2016
Admission: adults $10, seniors $5, students with ID $5, members free, children under 5 free. Group discounts available. Docent tours available.
Parking: metered lot on site of the building and on surrounding streets
The Bass is Miami Beach's contemporary art museum. Specializing in exhibitions of international contemporary art, The Bass also incorporates various elements of contemporary culture into the exhibition schedule, including design, fashion and architecture. In 2016 The Bass concludes a one-year transformation authored by architect David Gauld, with consultation from architect Arata Isozaki, who completed an addition to the museum in 2002. The transformation expands programmable space by close to 50 percent, providing a new configuration to house the museum's Creativity Center, four new galleries, an enclosed courtyard, and a museum store and café.
Institute of Contemporary Art (ICA) Miami
4040 NE 2nd Ave., Miami
305-901-5272
Open Tues-Sun 11 a.m. – 7 p.m., closed Mondays
Admission: Free.
Opened in 2014 in the landmark Moore Building in the Design District, ICA was founded and formed by the former Board of Directors of the Museum of Contemporary Art (MOCA) in North Miami. They are dedicated to showcasing the works of established and emerging contemporary artists through their exhibitions and various programs. ICA Miami is set to move from their current temporary space to a new 37,000-square-foot building being designed by the Spanish firm Aranguren & Gallegos, at NE 41st St. in the Design District. 
Lowe Art Museum
 University of Miami
1301 Stanford Dr., Coral Gables
305-284-3535
Open Tues-Sat 10 am-4 pm and Sun noon-4 pm
Admission: adults $12.50, students/seniors $8, children under 12 and UM students, faculty and staff free.
Special days: Lowe After Hours is the first Thursday of each month throughout the academic year. Visitors enjoy refreshments and entertainment, and all of the Lowe's galleries in an inviting after-hours ambience. Admission is free for members and $12.50 for non-members. Parking is available at the Pavia Garage.  
Founded in 1950, the Lowe started in three classrooms at the University of Miami and is Miami's first art museum. Since then it has amassed more than 19,000 pieces of art and moved into its own 21,000-square-foot museum. Five thousand years of art adorn the galleries from the museum's permanent collection, which boasts Greco-Roman marble statues and painted pottery, Mayan and Incan carvings, Baroque and Renaissance oil paintings, African textiles, an expansive Asian art collection, and Modern and Contemporary masterworks. There is also a dedicated pavilion for contemporary glass and studio arts, as well as temporary exhibitions that bring a rich array of art and artists to the Lowe. The Lowe is committed to serving as a vital resource for education and enrichment through art and culture for the benefit of the University of Miami, Miami-Dade County, the wider region and beyond. 
The Margulies Collection at the Warehouse
591 NW 27th St., Miami
305-576-1051
E-mail: mcollection@bellsouth.net
Open Wed-Sat 11am-4pm (October – April); closed May – September
Admission: adults $10, Florida students with valid ID free, all other students $5.
Look for paint and canvas elsewhere, because you won't find any in this 45,000-square-foot warehouse on the skirts of Miami's Wynwood Art District. The stark-white-walled gallery showcases photography, video, sculpture and installation art owned by local real estate developer Martin Z. Margulies, whose collection focuses on presenting large bodies of work by particular artists that represent shifts in key artistic movements of the 20th and 21st centuries, including Bauhaus, European modernism, social realism, American street photography and more. The warehouse closes to install new art every May through September, so make sure to call for opening dates in October.
Permanent Installations include work by Donald Judd, Magdalena Abakanowicz, Ron Bladen, Pier Paolo Calzorali, Willem De Kooning, Michael Heizer, Anthony Caro, Eliasson, Flavin, Jannis Kounellis, Miro, Richard Serra, Sol LeWitt, Isamu Noguchi, Tony Smith, Michelangelo Pistoletto, Franz West and John Chamberlain.
Museum of Contemporary Art North Miami (MOCA)
770 NE 125th St., North Miami
305-893-6211
E-mail: info@mocanomi.org
Open Tue-Fri 11 am-5 pm, Sat 1-9 pm, Sun 11 am-5 pm
Admission: adults $5, seniors/students with ID $3.
Free parking.
MOCA presents a mix of both local and international artists in its galleries. Local emerging artists, including Jose Bedia, Pablo Cano, Hernan Bas, William Cordova, Robert Chambers and Ruben Torres Llorca have been shown here, with highlights of past exhibitions including works by Carlos Salas, Marielle Plaisir, Anna Gaskell, Gianni Versace, Pablo Cano and Salvador Dali.
The art starts at the entrance, where a line of palm trees crosses a round reflection pool, now an interactive wishing well. MOCA's indoor exhibitions encompass 1970s film, Mexican modernism, fashion design, architecture, embroi dery, animation and much more. Moveable walls in the main gallery allow curators to tailor viewing space to paintings, photography displays, large sculptures and installations of any shape and size.
MOCA also hosts monthly "Jazz at MOCA" outdoor concerts as well as regular special events and activities for people of all ages. Check the website for current events and activities.
Pérez Art Museum Miami (PAMM)
1103 Biscayne Blvd., Miami
305-375-3000
E-mail: info@pamm.org
Open Mon & Tues and Fri-Sun 10 a.m.-6 p.m., Thurs 10 a.m.–9 p.m., Closed Wednesday
Admission: adults $16, students with ID, seniors 62 and over with ID and youth 7-18 years old $12.
Parking $2 an hour in Museum parking lot.
Opened in 2013, the impressive waterfront 200,000-square-foot facility overlooking Biscayne Bay was designed by Pritzker Prize winning architects Herzog & de Meuron. The Museum's permanent collection, displayed primarily on the first and second levels, focuses on international art of the 20th and 21st centuries that reflect Miami's cosmopolitan makeup. Extensive temporary exhibitions share space with the permanent collection on the second level. The building also features lush hanging multi-dimensional gardens and a series of shaded canopy overhangs covering the various walkways. 
The Patricia and Phillip Frost Art Museum
Florida International University
, Modesto Maidique Campus
10975 SW 17th St., Miami
305-348-2890
E-mail: artinfo@fiu.edu
Open Tues-Sat 10am-5pm, Sat noon-5pm
Admission: Free
One of the largest free-standing art museums in Florida, the Patricia & Phillip Frost Art Museum was founded in 1977.   The Frost Art Museum's lakeside building, designed by Yann Weymouth, opened its doors in 2008.  Weymouth was the chief of design on the I.M. Pei Grand Louvre Project. With 46,000 square feet of energy efficient exhibition, storage, and programming space, the museum achieved LEED silver certification.
The Frost Art Museums offers programming that attracts national and international visitors and complements its exhibitions with a wide range of educational programs. The Steven and Dorothea Green Critics' Lecture Series has featured internationally renowned artists, critics, curators and scholars including Christo, Susan Sontag, Frank Stella, Helen Frankenthaler, John Cage and Marina Abramović. The Kenan-Flagler Family Discovery Gallery serves as an innovative programming space that encourages children's involvement in art through hands-on exploration. 
Rubell Family Collection 
95 NW 29th St., Miami
305-573-6090
E-mail: info@rfc.museum
Wed-Sat 10am-5:30pm
Admission: $10, $5 students with ID or under 18
Housed in a 45,000 sq. ft. repurposed former drug and weapons confiscation center, the Rubell Family Collection opened in 1994. The museum houses a research library, sculpture garden, book store, and gift shop. Mera and Don Rubell along with their son Jason are devoted to capturing the zeitgeist of contemporary artists working around the world in all mediums. They are not timid to exhibit some of the most compelling art being made by artists of all ages, often championing unknown artists while also collecting established artists, such as Keith Haring, Jean-Michel Basquiat, Cindy Sherman, Paul McCarthy, and Kara Walker. 
A new exhibition opens every year with an accompanying catalog during Art Basel Miami Beach in December, and the exhibitions often travel to other museums around the country. For example, 30 Americans, featuring works by African American artists collected over forty years, has toured to twelve different museums and been seen by over one million people. On exhibit now: NO MAN'S LAND, an all-women show, that will travel next to the National Museum of Women in the Arts in Washington, D.C. in September 2016.
Vizcaya Museum and Gardens
3251 South Miami Avenue, Miami
305-250-9133
E-mail: vizcayainformation@vizcaya.org
9:30am – 4:30pm daily (closed Tuesdays, Thanksgiving Day and Christmas Day)
Admission: adults $18, seniors 62 and older with ID $12, students with ID/wheelchair users $10, children 6-12 $6, children under 5 free 
Built in 1916, this Italian Renaissance and Baroque-style national historic landmark was the winter home of agricultural industrialist James Deering, who wanted the estate to resemble a 400-year-old Italian villa. It's formal gardens, hedge maze and terraces lie on 10 acres along Biscayne Bay and are a popular romantic venue for weddings. Thirty-four rooms containing 16th through 19th century North American, European and Asian decorative arts are open for public viewing. Follow the marble floors and arched ceilings to James Deering's personal library with its camouflaged bookcase-door, or meander in the music room, designed for string melodies of its piano, harp and dulcimer. Guest rooms each have their own design theme, such as the 18th century-style "Espagnolette" room, adorned with dark wood floors and blue and gold fabric draping the four-post bed and windows. Take a stroll among the collection of rare orchids in the David A. Klein Orchidarium, watch sunlight scatter through the stained-glass doors of the tea room, or enjoy lunch with view of the historic swimming pool at the cafe and shop. Feel free to explore on your own or with a guided or audio tour.
The Wolfsonian-FIU
1001 Washington Ave., Miami Beach
305-531-1001
Hours: Daily 10am–6pm (open at noon Sun); closed Wednesday; until 9pm Fri; free 6–9pm Fri
Admission: adults $10, seniors/students with ID/children 6–12 $5, Free after 6pm Fridays, members/children under 6/students, faculty, and staff of the State University System of Florida free
Parking: garages at 7th and 13th streets and Collins Ave, municipal lot across Washington Avenue, and parking meters along roadsides.
Amid the sun and clamor of South Beach lies The Wolfsonian, an oddball sophisticate among neon clones. Modern-age eclecticism is the museum's focus, and both permanent and rotating exhibitions make use of The Wolf's vast collection of American and European objects and art produced during the height of the modern age (1850s-1950s). Exhibitions here examine art and design as they relate to political, social, and technological issues. According to The Wolfsonian, anything from propaganda posters and books to toasters and clocks is a commentary on, and a product of, the times. Sit down to lunch or dinner at the museum's cafe and shop, which offers everything from art books to finger puppets and toys.
World Erotic Art Museum
1205 Washington Ave., Miami Beach
Phone: 305-532-9336
E-mail: info@weam.com
Mon-Thurs 11am-10pm, Fri-Sun 11am-midnight
Admission: Only adults 18 and older admitted, $15
Parking: garages at 7th and 13th streets and Collins Ave. and parking meters along roadsides.
WEAM houses over 12,000 sq. ft. of erotic art from the private collection of internationally renowned antiques collector Naomi Wilzig. Although Wilzig says her museum is not a hall of porn, what's on display is still sensual even though it's historical and educational. The showrooms display erotic artifacts, paintings, sculptures and tapestries from all cultures ancient and modern. Marilyn Monroe pinups are right down the hall from Haitian voodoo fertility fetishes, and objects range in size from tiny ancient Greek nude figurines to a massive king-size bed carved from wood, complete with four suggestive posts. If you're a Kubrick fan, make sure to seek out the actual male prop used in the 1971 film "A Clockwork Orange," located in the large pieces room. A video is also on display of Miss Naomi explaining the history behind certain pieces of her collection and their cultural significance. WEAM can be an enlightening stop on your South Beach vacation, but, sorry kids, you must be at least 18 years old to enter.
Bring the Kids
Patricia and Phillip Frost Museum of Science
Museum Park, 13th St. and Biscayne Blvd., Miami
305-434-9600
Museum is slated to re-open in this location in early 2017
Located in downtown Miami's Museum Park and opening in early 2017, the 250,000-sq.-ft. Patricia and Phillip Frost Museum of Science explores and connects the science behind living ecosystems, the miraculous human body and mind, outer space, innovation and the wild frontier of technology. Central to the museum is the Living Core Aquarium, offering guests an immersive experience through five of South Florida's iconic ecosystems, including the Gulf Stream with a 100-foot open surface, 500,000-gallon aquarium. Frost Science also features the cutting-edge full-dome Frost Planetarium, MeLab, Innovation Labs, Knight Learning Center and outdoor exhibitions on the green roofs. The museum's Exploration Center houses permanent interactive exhibits, including Feathers to the Stars and River of Grass, along with a special exhibition gallery that will host traveling exhibitions throughout the year. The museum is accredited by the American Alliance of Museums, is an affiliate of the Smithsonian Institution and a member of the Association of Science and Technology Centers. 
Miami Children's Museum 
980 MacArthur Cswy, Miami
305-373-5437
Hours: Daily 10am-6pm, closed on Thanksgiving and Christmas Day, close at 4 pm Christmas Eve and New Year's Eve and open at noon on New Year's Day
Admission: general $18, Florida residents $14, members/children under 1 free
Parking: $1/hour
Special Days: There are dozens of daily events to explore. For details, visit the calendar. 
Established in 1983 the Miami Youth Museum had several homes around Miami and in 2003 was renamed the Miami Children's Museum and moved into its current 56,500-square-foot facility on Watson Island. It is recognized as one of the 10 largest children's museums in the country and the only children's museum in Miami-Dade County. The building, for and about children, represents the elements of the world; earth, wind, water and fire. It includes more than a dozen galleries including a Castle of Dreams, Cruise Ship, Construction Zone, My Green Home, Pet Central, Port of Miami, Safety Zone, The Sea and Me and Supermarket. There's also a KidSmart educational gift shop, a 200-seat auditorium, and a Subway restaurant.
Historical
Casa Bacardi 
University of Miami Campus, 1531 Brescia Ave., Coral Gables
305-284-2822
E-mail: iccas@miami.edu
Hours: Mon-Fri 10am-5pm
Admission: Free
Located at the Institute for Cuban and Cuban-American Studies at University of Miami, this center features interactive exhibits and educational sessions about Cuban history and culture. A cinema shows daily nostalgic and informative films, by request, about Cuban heritage, lifestyle, politics and the history of rum and tobacco. Sample assorted instruments and more than 2,000 digital songs by Cuban singers and composers in the Music Pavilion or get a taste of Cuban humor with recorded routines of comedians Luis Carbonell, Trespatines, and Guillermo Alvarez Guedes. The conference room displays exhibits of Cuban fine arts. The center also hosts an online database for everything Cuban. At the Cinema, visitors are able to screen a variety of movies about Cuba and Cubans. The movies change regularly, so call 305-284-2822 or e-mail to iccas@miami.edu
Gold Coast Railroad Museum
12450 SW 152nd St., Miami
305-253-0063
E-mail: webmaster@goldcoast-railroad.org
Mon-Fri 10am-4pm, Sat-Sun 11am-4pm.
Model Train area: Mon-Fr 11am-2pm, Sat-Sun 11am-4pm
Admission: adults $8, children 2-12 $6, children under 2 free. Magellan area is an additional $2 on regular days and $5 on special event days.
A must-see for model train collectors, Gold Coast hosts a collection of more than 40 passenger cars, freight cars, locomotives and other railway equipment. View "Ferdinand Magellan," the private railway car of Franklin D. Roosevelt and only custom-made car ever built for a U.S. President in the 20th century. The model train building, open 10 am to 4 pm Mon-Fri, has an array of model scales (Z, N, HO, O27, G) on display, plus a play room for kids to build their own wooden train sets, including "Thomas the Tank Engine" models. On weekends, take the family for a ride on the "Edwin Link Children's Railroad" for a small fee. The museum also offers rides on larger diesel and diesel-electric locomotives on some weekends.
HistoryMiami
101 W. Flagler St., Miami
305-375-1492
E-mail: e.info@historymiami.org
Mon-Sat 10am-5pm, Sun noon-5pm
Admission: adults $10, seniors/students with ID $8, children (6-12) $5, children under 6/members free
Parking: available at the Miami-Dade Cultural Center Parking Garage, 50 NW 2nd Ave. Discount through museum validation.
HistoryMiami Museum, a Smithsonian affiliate, gathers, interprets, and presents the history of Miami and the greater South Florida region as a cultural crossroads of the Americas. Founded in 1940, HistoryMiami Museum is the largest history museum in the State of Florida, housing four permanent galleries and up to three traveling exhibits, an Archives and Research Center, the South Florida Folklife Center, the Education Center, the Center for Photography, and a City Tours program.  The Museum is home to more than one million historic images and 30,000 three-dimensional artifacts, including a 1920's trolley car, gold and silver recovered from 17th and 18th century shipwrecks, artifacts from PanAm Airlines, and rafts that brought refugees to Miami. Through these offerings the Museum provides the community, its residents and visitors meaningful ways to explore our past to inspire our future. Learn more by visiting www.historymiami.org.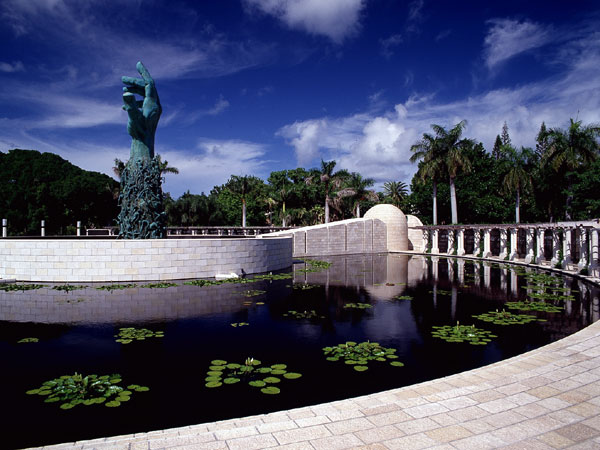 Holocaust Memorial 
1933-1945 Meridian Avenue, Miami Beach
305-538-1663
www.holocaustmemorialmiamibeach.org
305 538-1663
E-mail: info@holocaustmiamibeach.org
9am-9pm daily
Admission: free
This award-winning and moving Memorial to the six million Jewish victims of the Holocaust represents experiences of families during World War II and their anguish in trying to survive. Created as a park-like setting, it includes a brief history of World War II, including over 100 bronze figures. Survivors are available on a daily basis to speak with visitors and a new "app" is available with survivor testimony which is available on cell phones and other devices. The app is translated into 8 languages. Having recently won the Telly award for educational production which honors the best in film and video, this new feature is a wonderful addition to a beautiful local landmark. 
For a fee, visitors can have a name added to the Memorial Wall of 33,000 names. 
Jewish Museum of Florida
301 Washington Ave., Miami Beach
305-672-5044
E-mail: info@jewishmuseum.com
Hours: Tues-Sun 10am-5pm, closed Mondays and Holidays
Admission: adults $6, seniors/students $5, families $12, members/children under 6 free
Special days: Saturdays free 
The Jewish Museum of Florida-FIU (JMOF-FIU) is the only Museum dedicated to telling the story of more than 250 years of Florida Jewish history, arts and culture. The Museum is housed in two adjacent lovingly restored historic buildings that were once synagogues for Miami Beach's first Jewish congregation. The original synagogue was built in 1929, and the second, built in 1936, was designed by Art Deco architect Henry Hohauser and features striking stained glass windows. The two buildings are joined together by Bessie's Bistro, named after former Miss America, Bess Myerson. The Museum's core exhibition, MOSAIC: Jewish Life in Florida, 1763 to Present, is drawn from a permanent collection of over 100,000 objects. Also on display, are varied thought-provoking history and art exhibitions that change periodically. By collecting and preserving Florida Jewish memories that strengthen Jewish identity, the Museum plays a vital role in helping to insure Jewish continuity. JMOF-FIU's collection, while reflective of the Jewish experience in Florida, embraces the shared immigrant experience in our multicultural society and creates an understanding across all ethnic groups.
Wings Over Miami Air Museum
Kendall-Tamiami Executive Airport, 14710 SW 128 St., Miami
305-233-5197
Wed-Sun 10 am-5 pm, closed Monday and Tuesday
Admission: adults $10, seniors $7, $6 children 4-12, children 3 and under free
The museum was established in 2001 by four military and classic plane enthusiasts. It functions as an educational, family-oriented tribute to veterans, aviators and aircraft history. The museum hangar houses military and vintage planes, like the B-59, 1942 Boeing Stearman, 1957 Ikarus, and the GNAT, used by the British Yellowjacks and Red Arrows aerobatic team from 1964-1979. Other historical exhibits focus on aviation and World War II. Bring the kids to the museum's air shows throughout the year and watch Yaks and F-86s take to the sky in close formations. Visit the on-site gift shop for T-shirts, photos and model planes.
Botanical Gardens 
Miami Beach Botanical Garden 
2000 Convention Center Drive, Miami Beach
305-673-7256
Tue-Sun 9am-5pm
Admission: Free
Bringing balance to creeping urban sprawl are 2.6 acres of botanical gardens across the Miami Beach Convention Center. The gardens specialize in orchids and bromeliads, creating a lush green space of tropical palms, trees and flowers. Walk by the "autograph tree," which has been signed by tour guides over the years, and cross the bright red wooden bridge for a stroll in the Japanese Garden. Meandering pathways allow for full use of the small space. There are several oolite rock water features, a wetland mangrove, and constantly changing temporary art installations. Exploring the grounds is free, as are the garden's many lectures and events, including lessons in tropical cooking, photography and horticulture.
Fairchild Tropical Botanic Garden
10901 Old Cutler Road, Coral Gables
305-667-1651
Hours: 9: 30 a.m. – 4:30 p.m. every day
Admission: adults $25, seniors $18, children 6-17 $12, Fairchild Members and children under 5 free
Fairchild Tropical Botanic Garden is an 83-acre living museum of tropical plants and wildlife. Plant collections include the continental U.S.'s only outdoor tropical rainforest, a Spiny Forest of Madagascar showcasing endangered plants from one of the most fascinating regions of the world, a Palmetum with a world-renowned botanical display and research collection, and a Tropical Plant Conservatory housing two levels of rare palms, cycads, ferns, aroids, bromeliads, and vines. Plant collections are found amid breathtaking vistas, water gardens, and lily pools. The Wings of the Tropics exhibit features hundreds of extraordinary and exotic butterflies from Central and South America, Southeast Asia, and Africa, and visitors can watch as the butterflies emerge in the Metamorphosis Lab. The Garden hosts many events throughout the year, including the Chocolate, Orchid, and Mango Festivals to educate visitors about the vast world of tropical plants.