Ultimate Guide to Broward County Museums
There's more to Broward County than Fort Lauderdale and its pristine beaches. This guide is ideal for discovering what Broward has to offer by way of museums. Explore the arts for both kids and adults, delve into the area's history or the world of science and visit lovely gardens.
From May through September, take advantage of Broward County's 2 for 1 savings on museum admission at over 30 participating institutions.  
Fine Arts
Art and Culture Center of Hollywood
Address: 1650 Harrison St., Hollywood
Phone: 954-921-3274
Web site: www.artandculturecenter.org
E-mail: info@artandculturecenter.org
Hours: Tue-Fri 10am-5pm; Sat-Sun 12-4pm; closed Mondays 
Admission: adults $7, students/seniors $4, children under 4 free
Special days: Free admission third Sunday of most months
Founded in 1975, the Art and Culture Center/Hollywood is the third oldest arts non-profit in Broward County. This contemporary art and culture center now occupies the historic 1924 Kagey mansion in downtown Hollywood. They present simultaneous rotating contemporary gallery exhibitions, live stage performances and programming for adults and children.
Coral Springs Museum of Art
Address: 2855 Coral Springs Drive, Coral Springs
Phone: 954-340-5000
Web site: http://coralspringsmuseum.org/
E-mail: museuminfo@coralsprings.org 
Hours: Tues-Sat 10 am-5 pm; Sun 11am-4 pm; closed Monday
Admission: adults 18 and over $6, seniors $5, students with ID $3, children 5 and under free
Opened in 1997, the museum focuses on displaying innovative and ethnically diverse Florida artists and providing eclectic and challenging classes for both children and adults. Have hosted blockbuster exhibitions by Alexandra Nichita, Wolf Kahn, Duane Hansen, Clyde Butcher, Jose Bedia, Yuroz, and Dale Chihuly. Also displayed is art on loan from other area museums including the Boca Raton Museum of Art, the Fort Lauderdale Museum of Art and the Morikami Museum and Japanese Gardens.
NSU Art Museum Fort Lauderdale
Address: One E. Las Olas Blvd. Ft. Lauderdale
Phone: 954-545-5500
Web site: www.nsuartmuseum.org
E-mail: newsletter@nova.edu
Hours: Open daily 11 am-5 pm; Sun 12-5 pm, Closed Monday. Open until 8 pm every first Thursday of the month.
Admission: Admission $12 for adults; $8 seniors and military. $5 college students and youth 13-18. Free for children 12 and under. Prices may vary for special exhibitions.
With more than 25,000-square-feet of exhibition space, a lively café, and active calendar of lectures, classes, and performances, this museum is one of the most visited art centers in Fort Lauderdale. Housed in a distinctive modernist building designed by noted architect Edward Larrabee Barnes, NSU Art Museum is an easy walk to Las Olas Boulevard's popular shops and restaurants and the city's Riverfront. The museum's acclaimed exhibition program aims to challenge viewers' perceptions of the world around them.  NSU Art Museum's permanent collection contains more than 6,000 works, including the most celebrated and largest holdings in America by the post-war, avant-garde European Cobra artists, the largest collection in the world of works and archival materials by American realist painter William Glackens, and a significant collection of works by leading Latin and Latin-American modern and contemporary artists. 
Bring the Kids
Buehler Planetarium and Observatory
Address: Broward Community College, Central Campus, 3501 SW Davie Road
Phone: 954-201-6681
Web site: www.broward.edu/studentlife/planetarium/Pages/default.aspx 
Hours: Wed 7-10pm, Planetarium show at 7pm
Admission: $6
Families can enjoy laser shows and open sky presentations at this planetarium, which is one of the most technologically advanced observatories in South Florida. Kids can watch shows that explore planets, stars and galaxies while those interested in astronomy can attend nighttime observatory viewings for free. Learn about the history of exploration from Marco Polo to space probes, listen to Indian myths and sky lore or search for signs of life on Mars through different presentations. Show times and topics are constantly changing, so make sure to call for new schedules and prices.
Museum of Discovery and Science/Blockbuster IMAX(r) Theatre 
Address: 401 SW 2nd St., Fort Lauderdale 
Phone: 954-467-6637
Website: www.mods.org
Email: sales@mods.net
Hours: Mon-Sat 10am-5pm, Sun 12-6pm
Admission: Combination Ticket prices are $20 for adults; $18 for seniors 65+; $16 for active/retired military personnel; $16 for children 2 to 12. Children under 2 are free. A Combination Ticket includes admission to the Museum exhibits and one classic 45-minute IMAX documentary movie
Parking info: www.mods.org/visit/parking.html
Spend a day of discovery exploring hundreds of interactive exhibits including the new EcoDiscovery Center. Take a ride on the Everglades Airboat Adventure, experience hurricane force winds in the Storm Center, dig for fossils alongside a giant prehistoric megalodon, get close to a confrontation between a saber-toothed cat and an Imperial mammoth, and enjoy the playful antics of North American river otters in their two-story indoor/outdoor habitat. See science demonstrations, and presentations by community experts and discover the Everglades in the Florida EcoScapes exhibit. Hang out with bats, turtles and sharks. Meet an alligator and be charmed by a six-foot-long snake. Take a ride to Mars or soar through the skies in an FA-18 cockpit simulator. And immerse yourself in a five-story-high film adventure at the AutoNation® IMAX 3D Theater, home of the biggest screen in South Florida.
My Jewish Discovery Place Children's Museum
Address: 6501 W. Sunrise Blvd., Plantation
Phone: 954-792-6700
Web site: www.sorefjcc.org
Hours: Tues-Fri 10am-5pm, Sun 12-4pm
Admission: $3, children under 2 free
Alvin and Evelyn Gross Family Children's Museum is a hands-on, interactive museum of Jewish culture, history and values where children and families learn about the joys of Jewish life. It is dedicated to providing an environment where creativity, learning and play become a bridge to understanding in our multi-cultural world. 
Young at Art Children's Museum
Address: 11584 W. SR 84, Davie
Phone: 954-424-0085
Web site: www.youngatartmuseum.org
E-mail: visitorservices@youngatartmuseum.org 
Hours: Mon-Sat 10am-5pm, Sun 12-5pm
Admission: adults $8, seniors $7.50, members/children under 2 free
Kids and adults will enjoy an innovative, interactive creative experience at the Gold-LEED® certified Young At Art Museum featuri ng four galleries — GreenScapes, CultureScapes, WonderScapes and ArtScapes, traveling exhibitions, a cave to explore, dynamic art stations, a puppet theater, a giant wave to climb, a subway car to sit in, an area to make music with hub caps and plastic tubes and featured artist installations.. he Studio art classes and summer camps in ceramics, painting, drawing, photography or digital art are available at the Art Institute. 
Historical & Cultural
African American Research Library and Cultural Center 
2650 NW 6th St., Fort Lauderdale
Phone: 954-357-6282
Web site: www.broward.org/Library/LocationsHours/Branches/Pages/AA.aspx 
Hours: Mon and Wed 12-8 pm, Tues and Thurs-Sun 10 am-8 pm
Admission: Free
At 60,000 square feet, it is only the third library of its kind in the United States with more African-American history books and books written by African-Americans than any other facility in the country. The auditorium and exhibit areas provide opportunities to exchange ideas and cultural values as well as promote an understanding and appreciation of the contributions of persons of African descent.
Ah-Tah-Thi-Ki Museum and Village
Address: Big Cypress Reservation
Phone: 863-902-1113 (Reservation)/954-797-5570 (Hollywood)
Web site: www.ahtahthiki.com
E-mail: museum@semtribe.com
Hours: Open daily 9am-5pm
Admission: Adults $10, seniors/students/youth $7.50, children 4 and under are free
The Ah-Tah-Thi-Ki Museum features both temporary and permanent exhibits that highlight different aspects of the Tribe's history and culture.   Nestled in the heart of the Everglades, the museum features more than 30,000 unique artifacts depicting the rich history and culture of the Seminole Tribe of Florida. The mile-long boardwalk through a natural cypress dome, leads to a Living Village featuring Seminole artisans. Seminole and other Native American crafts, books and memorabilia are available in the Museum Store.  
Historic Stranahan House
Address: 335 S.E. 6th Ave., Fort Lauderdale
Phone: 954-524-4736
Web site: www.stranahanhouse.org
Hours: Daily guided tours Mon-Sun at 1 pm, 2 pm and 3 pm, no self-guided tours. Closed on major holidays which vary year to year, call ahead to ask.
Admission: adults $12, seniors $11, students $7.
The historic Stranahan House was built in 1901 by Frank Stranahan, the father of Fort Lauderdale and he town's first school teacher, and his wife, Ivy Cromartie The building has served as a trading post, community center, post office, bank and home to the Stranahans. In 1984, the house was restored to the original configuration of the early 1900s and opened up as an historic house museum listed on the National Register of Historic Places.
Old Dillard Museum 
Address: 1009 NW Fourth St., Fort Lauderdale
Phone: 754-322-8828
Web site: www.olddillardmuseum.org   
Hours: Mon-Fri 11am-4pm
Admission: Free
Built in 1924, this nine-room schoolhouse is Broward County's first full-scale museum devoted to black history and culture. As the first school for blacks in Fort Lauderdale, it was originally named the Colored School until it became the Old Dillard Museum in 1991. It is now a focal point for Fort Lauderdale black history, featuring exhibits and displays from local, national and international artists that include everything from woven kente cloths and photos to live performances. Highlights include a permanent Jazz Gallery exhibition dedicated to the late jazz saxophonist Julian "Cannonball" Adderley and the museum's library, which houses more than 2,500 books and other reference materials on the African diaspora.
Old Fort Lauderdale Museum of History 
Address: 231 SW 2nd Ave. 
Phone: 954-463-4431
Web site: www.flhc.org
E-mail: info@flhc.org
Hours: Mon-Fri noon-4pm, Sat & Sun 9:30am-4pm
Admission: guided tours $15, self-guided $10, Group pricing available
Nestled on the shores of the New River, this historic village offers three museums and a full history library in the heart of Fort Lauderdale's Arts & Entertainment District. Attractions include a History Museum (housed in the 1905 New River Inn listed on the National Register of Historic Places), Pioneer House Museum built in 1907 and 1899's Schoolhouse Museum. Historic Walking, Bike & New River Ferry Boat Tours are offered. 
Plantation Historical Museum 
Address: 511 N Fig Tree Ln, Plantation
Phone: 954-797-2722
Web site: www.plantation.org/Museum 
Hours: Tues and Thurs 10am-4:30pm; Fri 12-4:30pm; Closed Sun, Mon and Wed
Admission: Free
Plantation's first fire truck and other historic memorabilia on display along with a. butterfly garden and Everglades Diorama permanent exhibit. Other revolving exhibitions and programs throughout the year. 
Stonewall National Museum & Archives
Address: 1300 E. Sunrise Blvd., Fort Lauderdale
Phone: 954-763-8565
Web site: www.stonewall-museum.org
Hours: Mon-Fri 11am-6pm, Sat 10am-5pm, Closed Sunday
Admission: Free
Stonewall National Museum – Wilton Manors Gallery 
Address: 2157 Wilton Drive, Wilton Manors
Phone: 954-530-9337
Web site: www.stonewall-museum.org
Hours: Tues-Thurs 10am-4pm, Fri-Sun 1-10pm, Closed Monday
Admission: Free
Founded in 1973, is the largest lending library of its kind in the United States, with more than 18,000 books and audio-visual materials. Archives contain more than 5,000 items including periodicals, oral history collections, and business and association records. Its focus is to preserve, interpret and share the heritage of the lesbian, gay, bisexual and transgender community. The gallery in Wilton Manors features revolving photography exhibitions of iconic gay figures, couples and influential figures in the lesbian, gay, bisexual and transgender community.
World AIDS Museum and Educational Center 
Address: 1201 NE 26 St., Wilton Manors
Phone: 954-390-0550
Web site: www.worldaidsmuseum.org 
Hours: Wed-Sun 12-6pm, Closed Mon and Tues
Admission: By donation.
The first museum dedicated to the HIV/AIDS epidemic with an Educational Center that provides information on treatment & prevention of HIV. In their galleries the main exhibition is "The Chronology of AIDS" and in their two smaller galleries they showcase other revolving exhibitions dealing with the AIDS epidemic in the African-American and other communities.
Sports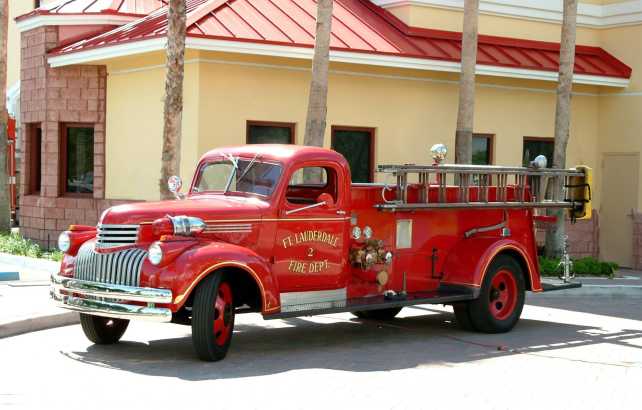 Fort Lauderdale Fire and Safety Museum 
Address: 1022 W. Las Olas Blvd. Fort Lauderdale
Phone: 954-763-1005
Web site: http://www.fortlauderdalefiremuseum.com
Hours: Saturday 9 am to noon, Sunday 12-4 pm
Admission: Free. Donations accepted.
In 2003 a team of volunteers joined to restore Historic Fire Station 3 to which was built in 1927 and designed by commissioned architect Francis Abreu, following the devastating 1926 Hurricane. The rotunda, chandelier, wood beam ceiling, crown molding, inlaid tile, eyebrow windows, fireplace and fountain have all been lovingly restored. The exhibitions honor the fire fighters courage and service since 1912.
Fort Lauderdale Antique Car Museum 
Address: 1527 SW 1st Ave., Ft. Lauderdale 
Phone: 954-779-7300
Web site: www.antiquecarmuseum.net 
Hours: Mon-Sat 10 am-4 pm, closed Sunday
Admission: Adults and seniors $10, children ages 5-12 $5
This museum hosts one of the largest known collections of Packards, once considered one of the most luxurious cars in America. On display is owner Arthur Stone's massive collection of cars, antiques and other automotive memorabilia. In addition to the 39 fully working Packard motor cars, which date from the 1900s to the 1940s, be sure to check out the technological marvel of the 1932 Shovelnose Sedan, as well as the oldest car in the museum, a 1909 Gentleman's Runabout Speedster. More than just an antique showroom, the museum also features a vintage bar, a room dedicated to memorabilia of President Franklin D. Roosevelt and a refurbished 1930s Texaco gas station.
International Swimming Hall of Fame 
Address: One Hall of Fame Drive, Fort Lauderdale Beach 
Phone: 954-462-6536
Web site: www.ishof.org
E-mail: lauriem@ishof.org
Hours: 9am-5pm Monday-Friday 
Admission: adults $8, seniors $6, students $4, members/active military/children under 12 free 
With a view to the ocean and over 7,500 square feet to house the world's largest collection of aquatic memorabilia, books and literature, the museum has more than 40 exhibits about the history of the sport and its athletes. On display are the Olympic medals of Johnny Weissmuller and Mark Spitz along with tributes to American Presidents who were swimmers. The elevated, wave-shaped complex also has a theater with historical videos and offers educational programs on water safety training and fitness at its two 50-meter pools.
Naval Air Station Fort Lauderdale Museum 
Address: 4000 W. Perimeter Road, Fort Lauderdale
Phone: 954-359-4400
Web site: www.nasflmuseum.com 
Hours: Thurs, Sat, Sun 11:30am-3:30pm
Admission: Free
Serving as one of 257 air stations during World War II, and as one of a few specialty schools for training on the TBM/TBF Avenger aircraft, the Naval Air Station Fort Lauderdale (NASFL) also known as the Link Trainer Building #8), stands as the only reminder of what was once a naval complex of more than 200 buildings.
Old Davie School Historical Museum 
Address: 6650 Griffin Rd., Davie
Phone: 954-797-1044
Web site: www.odshm.ch2v.com   
Hours: Museum office Mon-Fri 9am-5 pm, Sat 10am-4pm, tours by appointment only.
Admission: Museum only adults $7, seniors and students $5; Museum and Historic Houses adults $10, seniors and children $7
Opened in 1918 as the area's source of education and center for community gatherings, today it serves as a museum of local history and culture and recognized as the "Crown Jewel of Davie." Placed on the National Register of Historic Pl aces in 1988, it is comprised of the oldest existing school building in Broward County, two original homes built in 1912, a replica of a 1909 early settler's shack and an authentic Chickee Hut built by Seminole Tate Osceola. 
Botanical Gardens
Bonnet House Museum and Gardens
Address: 900 N. Birch Road, Fort Lauderdale
Phone: 954-563-5393
Web site: www.bonnethouse.org
E-mail: lindaschaller@bonnethouse.org
Hours: Tue-Sun 9 am-4 pm
Admission: Grounds only – $10, Tour Fees – individuals $20, students a(6-12) $16, members/children under 6 free. Broward County residents $3 off with ID.
Parking: available on grounds 
Built in 1920, this 35-acre plantation estate of Frederic and Evelyn Bartlett was designed to capture the essence of outdoor living. Its gardens, coastal hammock, courtyard and freshwater slough form an oasis of green among the developments on Fort Lauderdale beach. Australian Melaleuca trees shade the path to the front of the estate, decorated with a desert garden of yuca and century plants. To the west are brackish wetlands and mangrove trees – home to manatees, fiddler crabs and shore birds – and lying east are groves of mangos, avocados, and citrus trees. Watch for the resident colony of squirrel monkeys on the grounds, swinging from trees or grabbing a fruit snack. Arched hallways decorated with New Orleans-style ironwork open to ocean breezes and views of lush vegetation. Also on the grounds are Evelyn's shell museum, an orchid house and a bar made from bamboo.
Flamingo Gardens
Address: 3750 S. Flamingo Road., Davie
Phone: 954-473-2955
Web site: www.flamingogardens.org
E-mail: admin@flamingogardens.org
Hours: daily 9:30 am-5 pm, closed Christmas, Thanksgiving. Last tickets sold at 4 pm.
Admission: adults $19.95, children 3-11 $12.95, children 2 and under free. Seniors/AAA members/military/students get 20% discount with ID. Discount coupon also available online. 
Established in 1927, Flamingo Gardens is one of the oldest botanical gardens in South Florida. The 60-acre botanical garden and wildlife sanctuary contains over 3,000 tropical and sub-tropical species of plants and trees, and is home to the largest collection of Florida native wildlife in the state.
With some of the last natural jungle growths in South Florida, Flamingo Garden's Botanical Collection contains 18 of the largest trees of their species and a unique 200-year-old Live Oak Hammock. The historic Wray home has been restored and provides a glimpse of life in the 1930's. The Everglades Wildlife Sanctuary is home to over 90 species of Florida native birds and animals including alligators, bobcats, a black bear, eagles, otters, owls, panthers, peacocks and flamingos. The half-acre Free-Flight Aviary boasts more than 250 birds representing 45 species.