Things we discovered on a 74-mile car trip on the Tamiami Trail from Miami to Naples
Back in 1923, when completion of the 275-mile Tamiami Trail from Tampa to Miami was stalled, 23 men calling themselves the Tamiami Trailblazers and two Seminole guides decided to cross the Everglades in cars.
To demonstrate that the final section could be built through the treacherous swamp between Fort Myers and Miami, they set out in their Fords on April 4, a Wednesday, intending to reach Miami four days later.
Their cars got stuck in the marsh, forcing them to board a Caterpillar tractor, build 17 bridges by hand, cut through eight miles of dense cypress forest, and get food and gas dropped in by bomber aircraft. The supposed five-day journey of 190 miles took 23 days.
But the Trailblazers got everyone's attention: After much drilling, blasting and dredging, the highway was completed in 1928.
Nearly 80 years later, Tamiami Trail travel is a lot easier, although one can still find plenty of Trailblazer-like, outdoorsy, and touristy things to do heading west out of Miami-Dade. Here are some highlights of a recent 74-mile car trip from the outskirts of Miami to the outskirts of Naples:
Dade Corners Travel Center, 17696 SW Eighth St. (corner of Krome Avenue and Tamiami Trail).
This is your one-stop shop for just about everything you need for trail-braving: gasoline, canoes, guns, propane, fishing rods, camo wear, goggles. Also glass figurines, preserved gator heads, coffee mugs in the shape of women's breasts, and Subway sandwiches.
After loading up, but before continuing west, turn back about a block, hang a U, and test-fire your gun at . . .
Trail Glades Range, 17601 SW Eighth St.
Operated by Miami-Dade Parks, this is a favorite hangout of hunters, police officers, security guards and target shooters. There's a rifle-pistol range and a separate area for skeet and trap. If you don't have your own, you can rent a rifle or shotgun.
On the day of my visit, a group from the Keys (where it's illegal to shoot guns anywhere) were practicing their skills on clay targets. Readying their shotguns, they called, "Pull!" and range master Mike Kuvin pressed a button that sent disc targets flying in all directions.
Having heard enough gunfire, it was time to embrace a different kind of loud noise at . . .
Coopertown Airboat Tours, about five miles west of Dade Corners, Tamiami Trail.
For $19, we took a 40-minute airboat ride into the sawgrass marsh of the East Everglades with guide Chris Malm and got to watch a real-life swamp soap opera.
Arriving in Shark River Slough, we saw a brilliantly colored purple gallinule being menaced by a five-foot alligator. The bird stood at water's edge, cheeping in distress at the gator.
Suddenly, three grayish-brown chicks emerged from the sawgrass and began to pick their way with long, spindly legs over the vegetation away from the villain's jaws. The gator, defeated, submerged. Happy ending.
Back at the dock, visitors posed for photos holding baby gators and reveling in their alleged bravery.
The next gator sighting occurred a little farther west at . . .
The S-333 spillway near the ValuJet Memorial, about 12 miles west of Dade Corners.
Seated canalside on folding chairs about 20 yards apart were Mae Mack of Miami and her adult daughters Guitannie Randolph and Pam Brown. Armed with two 20-foot-long cane poles each, the three were trying to catch bass, bluegill, catfish, mullet, or bream despite the presence of a seven-foot gator intent on intercepting their hooked fish.
"Sometimes they come and grab the pole, " Mack said, nodding toward the reptile.
Fortunately, the animal was slow on the draw, allowing Mack to land a bluegill and a mullet in quick succession.
"I'm going to clean them and cook them, " she said happily.
Once again, a gator went hungry. But its cousins probably fared much better farther west at . . .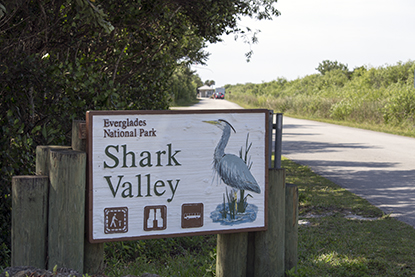 Shark Valley entrance, Everglades National Park, about 18 miles from Dade Corners.
The best place to view large numbers of gators, Shark Valley offers tram tours and bicycle rentals along a paved 15-mile loop trail through a vast, grassy prairie. Gators swim in ponds along the the roadway, station themselves at the ends of culvert pipes to intercept fish and warm themselves along the canal banks.
A bicyclist once observed from a distance as a hungry reptile ambushed an anhinga and devoured it in the middle of the road. Visitors can watch piles of gators from a 65-foot observation tower at the trail's halfway point.
At Shark Valley, travelers now have choices to make: Cross the highway from the park entrance and eat fried catfish, frog legs and gator bites in the air conditioning at the Miccosukee Restaurant; go next door to the Miccosukee convenience store and sample pickled pigs' feet for $2; stop and fish for bass in the L-28 canal aboard a small outboard-powered Gheenoe as Miami's Herbert Hatch has been doing for the past 42 years; or take an unguided side trip through the Big Cypress National Preserve on the mostly unpaved 24-mile Loop Road.
We skipped the fried and pickled local cuisine, took a short but speedy Gheenoe ride with Hatch, and traveled the entire Loop Road.
For the record, Hatch's best day on the L-28 was in October three years ago when he caught and released 216 bass using a Heddon baby torpedo lure. He says the fishing used to be good back by Krome Avenue, but these days he drives nearly 22 miles west to catch bass. His paddle bears the scars of skirmishes with gators.
Loop Road, about 22 miles from Dade Corners.
Don't think about a side trip unless you've got at least two hours to kill.
This shady, scenic one-lane road through the swamp goes from primitively paved to pocked with puddles within just a few miles. Best traveled by mountain bike, Loop Road provides excellent wildlife viewing opportunities; you might see deer, otter, gator, bobcat or black bear. A rich array of bird life includes wood st ork, egret, great blue heron, cormorant and anhinga.
Some of the cypress marsh vistas will look familiar. That's because they are depicted in the acclaimed black-and-white photographs of Clyde Butcher, which you can admire or buy at . . .
Big Cypress Gallery, 52388 Tamiami Trail, about 43 miles from Dade Corners.
The world-renowned photographer was not here the day we visited. Sales associate Ailyn Hoey told us he was exhibiting his work in Virginia, after having recently completed America the Beautiful: The Monumental Landscape, a book of photographs taken at 18 national parks in 2006.
Perusing Butcher's stark, silver-tinged views of the South Florida landscape is always a treat; his northern images inspire as well.
One subject Butcher has failed to capture is the notorious Everglades Skunk Ape — the smelly, seven-foot tall Big Foot/Sasquatch look-alike reputed to live in the swamp. To view images of the Skunk Ape, you must head for . . .
Skunk Ape Research Headquarters, 40904 Tamiami Trail, about 52 miles from Dade Corners.
Chief researcher Dave Shealy, author of Everglades Skunk Ape Research Field Guide, was off conducting field studies in the Big Cypress on the day of our visit. Rick Scholle, working the front desk of the combination gift shop/campground/zoo, didn't give the subject much credence.
"The only thing more elusive than the Skunk Ape is the research into the Skunk Ape, " he sniffed. "I'm in charge of the animals that do exist."
By way of explanation, Scholle led us into the back of the shop where several Burmese and reticulated pythons, a Nile monitor lizard, anaconda, parrots, macaws, and cockatoos reside in pens and cages.
Everyone got to hold and pet Sassy the cockatoo, whose attention-getting whistle is so shrill that it got him kicked out of Islamorada's Theater of the Sea.
Food for Sassy and the other animals — including crickets for the snakes — are delivered from the smallest post office in the United States . . .
The Ochopee Post Office, about 55 miles from Dade Corners.
A favorite stop of shutter-snapping European tourists, this eight-foot, four-inch by seven-foot, three-inch building is run by postmaster Nanette Watson, a six-year veteran and Ochopee native. Watson sorts the mail for more than 900 residents from Jerome to Shark Valley, which is delivered by a lone carrier with a route that stretches 132 miles across three counties.
Watson loves her job, despite the sometimes intrusive wildlife.
"We used to have pygmies [rattlesnakes] in here really bad till we redid the floor, " Watson said nonchalantly. "Snakes, spiders, ants, rats — that's just part of the job. But I'm not crazy about flying palmetto bugs."
For the record, Watson has never seen the Skunk Ape. However, a likely place to look might be the . . .
The Big Cypress Bend Boardwalk, about 65 miles from Dade Corners.
Here is a 6/10-mile wooden walkway through a dark and mysterious-looking swamp where there's the potential for observing not only the swamp's Sasquatch, but gators, black bear, pileated woodpecker, several varieties of wading birds, even otters. Many of the larger tree trunks are encircled by the boughs of strangler figs, which look like squiggly wooden snakes.
The strangler fig once was famously misunderstood by a New York City journalist who thought his guide said "strangler pig" and kept an all-night vigil for a tree-dwelling predator intent on throttling him in his sleep.
Nearing the end of the sparsely settled portion of the Trail just before the outskirts of Naples is . . .
Collier-Seminole State Park, 20200 E. Tamiami Trail, Naples, about 73½ miles from Dade Corners.
Here you can camp, hike and bike beneath a thick canopy of royal palms, gumbo limbo, and Jamaican dogwood, or stroll a boardwalk through a mangrove swamp that ends overlooking a salt marsh.
You can also launch a boat, canoe or kayak and go fishing.
But to truly appreciate all that you have seen in your Trail trek, take a good long look at the peculiar mechanical contraption just past the ranger station. It's a walking dredge that helped dig the highway out of the swamp back in the day — now designated a historic mechanical engineering landmark.
You can thank 1920s Trail investor Barron Collier, for whom the park (and the county) are named, for your quick and easy drive back to Miami.