9 movies that will scare your pants off at the Popcorn Frights Film Festival
Last October, the inaugural edition of the Popcorn Frights Film Festival — the brainchild of two Miami horror buffs — screened four titles. Year one was an experiment, a way to find out whether there was an audience in South Florida large enough to sustain an entire festival devoted exclusively to scary movies.
The answer was such a resounding yes, this year's edition of the festival has expanded to 34 feature-length and short films from 12 countries. The movies screening at Popcorn Frights Aug. 12-18 are all deeply rooted in genre: Here be monsters, of all varieties imaginable. But the program's thematic and cultural diversity turns the festival into something more ambitious than a Coachella for gorehounds. This is a symphonic exploration of horror movies in all their permutations, from low-brow to experimental, understated to in-your-face.
Here's a preview of some of the films screening during the festival. For a complete lineup, visit www.popcornfrights.com:
1. "The Blackcoat's Daughter" (9 p.m. Aug. 12): The debut of writer-director Osgood Perkins (son of Anthony) premiered at the Toronto Film Festival last year under a different, blander title ("February"). Whatever you call it, this unnerving, slow-burn thriller gets under your skin and begs to be seen knowing as little about the plot as possible. Two students (Lucy Boynton and Kiernan Shipka of "Mad Men") spend winter break alone at their creepy Catholic boarding school, while a third young woman (Emma Roberts) hitchhikes her way to campus. Superb sound design and a churning score by Elvis Perkins (the director's brother) heighten the mood. But the movie's harrowing power lies in its visual storytelling: This one relies entirely on images, not dialogue, to tell its diabolical story.
2. "Under the Shadow" (7 p.m. Aug. 13): In 1988 Tehran, a family trying to survive the Iran-Iraq war is besieged by evil spirits. Writer-director Babak Anvari uses the building blocks of supernatural horror as a metaphor for the restrictions imposed by a sexist, restrictive culture.
3. "I Am Not a Serial Killer" (9 p.m. Aug. 13): This low-key, moody adaptation of the first volume in Dan Wells' trilogy of "John Cleaver" novels centers on a teenager (Max Records) harboring sociopathic tendencies who starts to suspect his neighbor (Christopher Lloyd) may be the serial killer preying on a small Midwestern town.
4. "Antibirth" (11 p.m. Aug. 13): Natasha Lyonne and Chloë Sevigny play two pill-popping, booze-swilling pals who sober up after a particularly long night of partying to figure out how one of them wound up pregnant and suffering from strange hallucinations. Could it be Satan?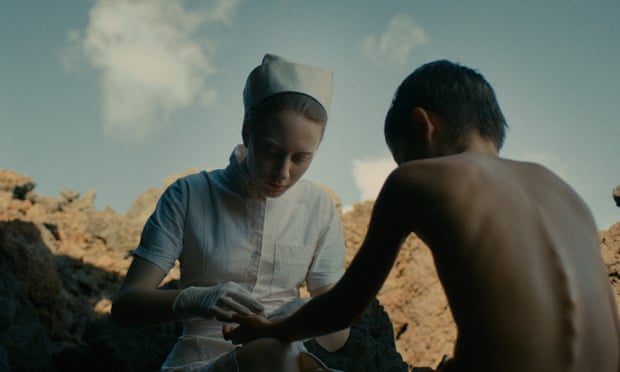 5. "Evolution" (7 p.m. Aug. 14): Director (and frequent Gaspar Noë collaborator) Lucile Hadzihalilovic's French-language creep-out centers on a 10-year-old boy, living with his mom on an island populated only by mothers and their young sons, who claims to have seen a body while swimming near some coral reefs. Body-horror and science-fiction coalesce to create a lush, widescreen nightmare.
6. "The Barn" (7 p.m. Aug. 16): Actress Linnea Quigley and writer-director Justin M. Seaman will attend the screening of this love letter to B-grade, 1980s-era horror films.
7. "Carnage Park" (9 p.m. Aug. 16): A hostage (Ashley Bell) is caught in the crossfire between a fugitive bank robber and the deranged Vietnam veteran (Pat Healy) trying to take him down in a remote stretch of desert. An unapologetically bloody and energetic exercise in grindhouse horror.
8. "Pet" (9 p.m. Aug. 17): The plot twists never stop coming in this thriller about an animal shelter worker (Dominic Monaghan) who kidnaps a waitress (Ksenia Solo) and imprisons her inside a dog cage.
9. "Beyond the Gates" (9 p.m. Aug. 18): Horror film icon Barbara Crampton ("Re-Animator," "Chopping Mall") stars as the host of an old VCR board game discovered by two brothers clearing out their late father's videotape rental store.
Rene Rodriguez: 305-376-3611, @ReneMiamiHerald