Brickell just got fancy (again) with this French newcomer
The who: Arjun Waney, the restaurateur behind Zuma, Coya and Doa unveils La Petite Maison, a London-based French restaurant in Brickell. Executive chef Raphael Duntoye heads up this U.S. expansion, of which Miami is the first outpost. The original restaurant is located in Nice, France and has been in business since 1988.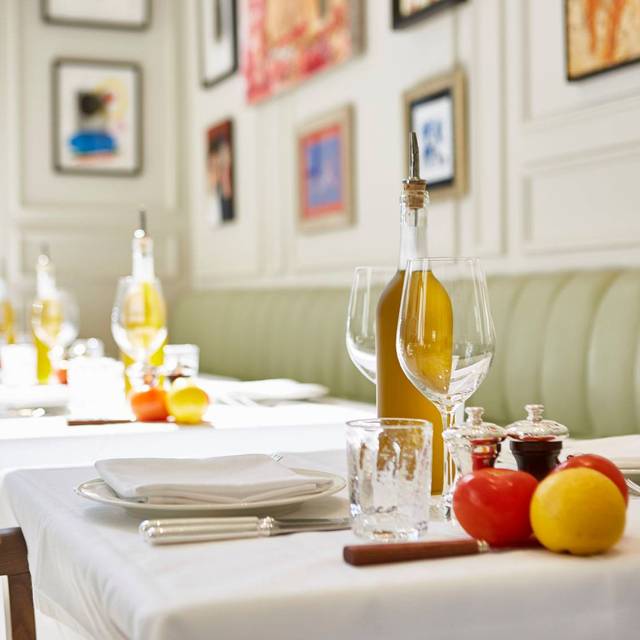 The space: A bright and polished triangular space with a buzzing open kitchen, framed by a bar, flanked with jars of preserved vegetables and baskets of fresh produce. Tables decked out in white linens are set against French-style whitewashed walls adorned with contemporary art. An outdoor patio provides classic brasserie seating with oversized umbrellas.
The dishes: Niçoise cuisine that marries French-Mediterranean flavors with Italian influence. Prices are as posh as the setting with starters averaging $14 and mains hover in the $30's. 
Every table is set with fresh lemons and vine-ripe tomatoes, to be shared and eaten communally with the rustic French bread and olive oil served at the beginning of the meal.
Popular dishes include the revettes tièdes à l'huile d'olive — warm prawns in olive oil — and carpaccio de coquilles St. Jacques — scallop carpaccio but we opted for the yellowtail carpaccio and the classic ratatouille with feta. A lentil salad is given crunch with pink lady apple chunks while the salt cod croquettes come with roasted pepper relish.
Larger mains run the gamut from fish baked en papillote with lemon and herbs to a whole roast chicken with foie gras. Pastas include a gnocchi with cherry tomatoes and garlic, a papardelle with veal ragu and a seafood pasta tossed with prawns and chorizo.
Turbot aux Artichauts Barigoule, turbot with artichokes, chorizo, white wine and olive oil heads up the fish selections, as does a Daurade au Citron, whole sea bream baked en papillote with lemon, herbs and olive oil. Grilled veal, lamb chops and rib eye round out the carnivorous options, but Francophiles will go for the Canard L'orange, slow cooked duck legs with orange glaze.
Desserts keep the sophisticated vibe going with a chocolate mousse and malt ice cream, apple tart with vanilla ice cream.
Bottom line: There's no shortage of French restaurants in this town, but given this restaurant's pedigree we can rally for escargot and duck l'orange.
1300 Brickell Bay Dr, Miami
(305) 403-9133