Could this be the Best Happy Hour in Miami: EDGE Steak & Bar at the Four Seasons Miami
The fourth stop on our search for the Best Happy Hour in Miami was EDGE Steak & Bar at the Four Seasons Hotel in Brickell. 
The Vibe: EDGE Steak & Bar is a fusion of two different vibes. The restaurant's sleek and modern design speaks of upscale sophistication, while an abudnace of warm wood interior accents and the venue's open floorplan make you feel comfortable, at home and at ease. It's refined enough to offer that upper-crust dining experience (minus the fuss and the tension), but it lets you know you're allowed to sit back, loosen up your tie, and relax.
Prices/Deals: EDGE's happy hour offers a beatifully varied selection of drinks and small bites. Normally priced at $15, most of the drinks run around $8 from 4 p.m. – 7 p.m. (with the exception of three). Enza Prosecco and Oconoclast Cabernet and Chardonnay are half off. The small bites are 2-for-1 and range from $8 – $15, and while $15 may seem a bit pricy for a bar bite (even if it is 2-for-1), the quality of the food and shareable portion sizes makes it feel worth every penny. Most plates are large enough to allow three people a generous taste. If you're into oysters, EDGE offers $1 oyster deals during happy hour as well. Here's what we tried:
Ice Breaker  – (below) Belvedere, sparkling wine, ginger infusion, grapefruit and sage picked from EDGE's own rooftop garden. Light, delicate and bubbly.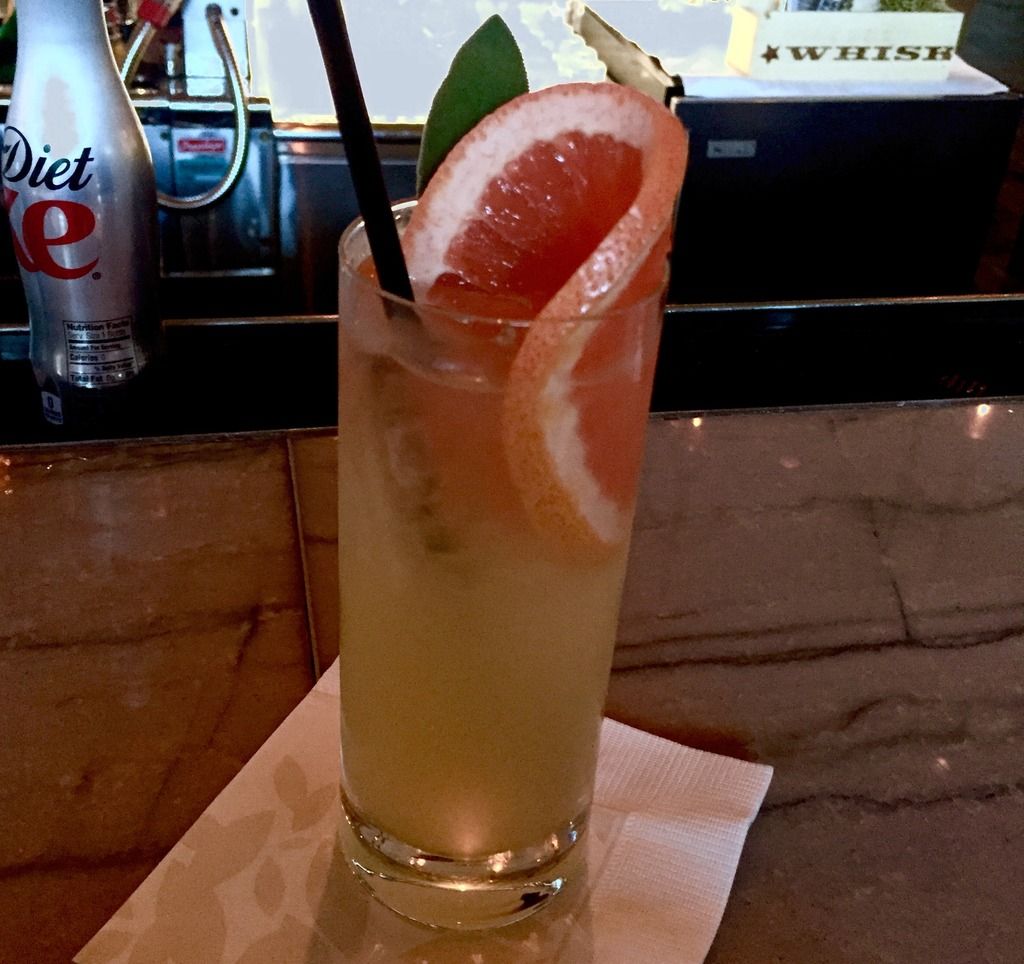 18th On the Green – (our favorite, below) Flor de Cana 4, fresh lime juice, cilantro and basil leaves picked from EDGE's own rooftop garden. Refreshing and fruity, with a little zing.
Bourbon Sidecar- (below) Tamarind infused Bulleit Cointreau, fresh lemon juice, house signature infusion. Deep, citrusy and balanced.
Fried Calamari – (below) rosemary-jalapeno salt, meyer lemon aoli. Seriously the best calamari we've ever had.
Tostones – (below with fried calamari) avocado chimichurrie, queso fresco, crispy plantains. Best when topped with EDGE's creamy homemade guacamole (also pictured below, topped with ricota cheese and served in a minature mason jar).
Charcuterie – (below) artisan meats, country terrine, Jasper Hill Cheddar, pickles. At $15, it's the most expensive item on the small bites menu, and absolutely worth it. All of the wet-cures are made in house, while the dry-cures are imported domestically. The meats rotate based on what new ideas and ingredients inspire Executive Chef Aaron Brooks and his team.
The Scene: Because EDGE services both locals and hotel guests, it features a diverse mix of patrons. You have the Brickell- and Downtown-based business types who come after work for happy hour, social foodies who meet up with their friends to sample the latest charcuterie, and hotel guests who either want to unwind after a long day or enjoy a flavorful start to a night out. The staff and bar team is friendly and accommodating, regardless of whether you're wearing a dress shirt or a t-shirt, and the crowd is overall slightly more mature than what you'd find at a comparable South Beach haunt.
Pictures of EDGE Steak & Bar's own rooftop garden, where they source most of their fresh herbs and fruit ingredients (below):