11 things to do in Miami this weekend – Sept. 2-4
Friday
, Sept. 2
LABOR DAY BLOWOUT
BALL & CHAIN MUSIC FESTIVAL
Whether you've loved this Little Havana bar and lounge for years or have yet to discover it, Ball & Chain is the place to be this weekend, as it celebrates 81 years with three days of live music and merriment, featuring performances by local mainstays including Electric Piquete, Spam Allstars, Conjunto Progreso, Tiempo Libre, PALO!, Magic City Hippies and many more.
Details: Noon-3 a.m. Friday and Saturday, and 2-10 p.m. Sunday, at Ball & Chain, 1513 Eighth, Little Havana; www.ballandchainmiami.com; free.
HOME IMPROVEMENT
MIAMI HOME DESIGN AND REMODELING SHOW
The Labor Day Weekend tradition continues with this five-day, family-oriented show offering anything you need to repair, improve or enhance your home, with vendors, cooking demonstrations (many kid-friendly) by favorite South Florida chefs, seminars and speakers such as Matt Muenster of HGTV and DIY's "Bath Crashers."
Details: 6-10:30 p.m. Friday, noon-10:30 p.m. Saturday and Sunday, noon-7:30 p.m. Monday, and 6-10:30 p.m. Tuesday, at the Miami Beach Convention Center, 1901 Convention Center Dr., Miami Beach; www.homeshows.net; $10, $1 kids 10 and under, kids 14 and under free on Sunday.
STILL ROCKING
GOO GOO DOLLS
Buffalo, N.Y., alt-rock band led by raspy-voiced lead singer Johnny Rzeznick has consistently served up melodic songs with a melancholy bite for more than 20 years, including the hits "Slide," "Iris" and "Name." Now, the band takes the stage in support of its 11th studio album, "Boxes," featuring the singles "The Pin," "Over and Over" and "So Alive." Opening are Collective Soul ("Shine," "December," "The World I Know") and Tribe Society.
Details: 6:30 p.m. Friday at Bayfront Park Amphitheatre, 301 Biscayne Blvd., Miami; LiveNation.com; $30.75-$75.
IN THE HOUSE
KASKADE
Superstar DJ/producer from Chicago – real name Ryan Raddon – spins breezy progressive house and trance anthems from his latest album, "Atmosphere," plus older faves including "I Remember," "Room For Happiness" and "Lessons In Love."
Details: 11 p.m. Friday at Story Miami, 136 Collins Ave., Miami Beach; www.flavorus.com; $50.
Saturday
, Sept. 3
FEEL THE BEAT
AFRO-ROOTS WORLD MUSIC FESTIVAL
All-ages local-music event returns for an 18th year with the Chicago Afrobeat Project, Real World recording artist and Honduras native Aurelio Martinez, Miami world-music collective Uma Galera, and festival mainstay DJ Moses.
Details: 5 p.m. Saturday at the North Beach Bandshell, 7275 Collins Ave., Miami Beach; www.communityartsandculture.org/afro-roots-festival; $15 advance, $25 at the door.
#THATSTRUE COMEDY TOUR
GEORGE LOPEZ
Fresh off his new TV Land sitcom "Lopez" being renewed for a second year, veteran actor and comedian takes a break from his golf game (seriously – he's good) to deliver stand-up that examines race relations with a snicker.
Details: 8 p.m. Saturday at the Hard Rock Live Arena at Seminole Hard Rock Hotel & Casino, 1 Seminole Way, near Hollywood; Ticketmaster; $45-$65.
JAM ON IT
THE HEAVY PETS
Fort Lauderdale jam band that blands rhythm & blues, jazz, funk, disco and reggae with rock-and-roll takes the stage in support of its latest release "Two Horses." Surfer Blood opens.
Details: 8 p.m. Saturday at the Culture Room, 3045 N. Federal Hwy., Fort Lauderdale; www.cultureroom.net; $13.
BOMB THE BASS
FLUX PAVILION
British dubstep producer and DJ, aka Joshua Steele – whose song "I Can't Stop" became the basis of "Who Gon Stop Me" on Jay-Z and Kanye West's collaborative effort "Watch the Throne" – takes the stage.
Details: 10 p.m. Saturday at Revolution Live, 200 W. Broward Blvd., Fort Lauderdale; www.jointherevolution.net; $26.
HEY MR. DJ
ALL GONE PETE TONG
Labor Day Weekend party named for legendary British DJ and tastemaker Pete Tong also features Italian electro/techno DJ Davide Quillace and up-and-coming Russian techno DJ Julia Govor.
Details: 11 p.m. Saturday at LIV Nightclub, 4441 Collins Ave., Miami Beach; www.flavorus.com; $50.
Sunday
, Sept. 4
AMERICAN ROOTS OF JAMAICAN MUSIC
THE LEGACY
Jazz guitarist, arranger and composer Eugene Grey leads this show chronicling the development of popular songs in Jamaica and the Americas starting from the mid-1940s to present time, celebrating how musica
l elements such as jazz, mento, ska and rock steady have merged to become what is now known as reggae and hip-hop. Enjoy singers, dancers and special guest artists performing the music of Louie Jordan, Frankie Ford, Bob Marley and others.
Details: 7 p.m. Sunday at the Broward Center for the Performing Arts, Amaturo Theater, 201 SW Fifth Ave., Fort Lauderdale; 954-462-0222 or www.browardcenter.org; $40.
Next Week
AUTHOR EVENT
DAVE BARRY
Pulitzer Prize-winning author and humorist discusses his latest novel, "BEST. STATE. EVER.: A Florida Man Defends His Homeland" ($27 + tax), a hilarious look at the wonderful weirdness that helps make up the Sunshine State.
Details: 7:30 p.m. Tuesday at the Coral Gables Congregational Church, 3010 De Soto Blvd., Coral Gables; 305-442-4408 or www.booksandbooks.com; free with voucher (must purchase copy of the book).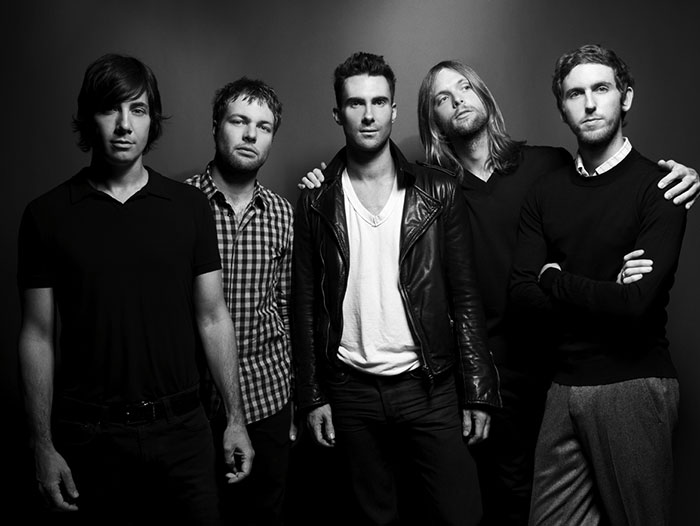 MONSTER MELODIES
MAROON 5
Grammy-winning pop-rock band led by singer (and "The Voice" judge) Adam Levine hits the road again, performing tried-and-true smashes including "Payphone," "Daylight," "This Love," "Sunday Morning," "She Will Be Loved," "Moves Like Jagger" and "Makes Me Wonder," plus newer hits such as "Animals," "Maps," "Feelings" and "Sugar." Opening acts: Tove Lo ("Habits [Stay High]," "Talking Body") and R. City ("Locked Away," "Make Up").
Details: 7:30 p.m. Wednesday at the AmericanAirlines Arena, 601 Biscayne Blvd., Miami; Ticketmaster; $27.50-$123.
50TH ANNIVERSARY TOUR
DONOVAN
Hard to believe it's been half a century since Donovan's hit "Sunshine Superman" topped the Billboard charts, but the legendary Scottish singer-songwriter is still going strong. He'll entertain the crowd with stories and anecdotes, and perform timeless tunes such as "Mellow Yellow," "Hurdy Gurdy Man," "Catch the Wind," "Wear Your Love Like Heaven" and "Atlantis."
Details: 8 p.m. Thursday at Parker Playhouse, 707 NE 8th St., Fort Lauderdale; Ticketmaster; $33-$43.
ROCKIN' ROLE MODEL
JULIETA VENEGAS
Grammy-winning Latin pop pioneer, indie-rocker, folk queen and stereotype-buster rocks the stage in support of her seventh studio album, "Algo Sucede."
Details: 8 p.m. Thursday at the Fillmore Miami Beach at Jackie Gleason Theater, 1700 Washington Ave., Miami Beach; LiveNation.com; $43.50-$98.50.
free for all
FREE FIRST FRIDAYS
6-9 P.M. FRIDAY: The City of Miami Beach presents this free concert series featuring singer Luis Bofill – who has shared the stage with stars such as Ruben Blades, Marc Anthony, Bono, Paquito D'Rivera and many others – as part of Hispanic Awareness Month; Normandy Fountain, 71st Street and Normandy Drive, Miami Beach; www.kccproductions.com.