Prism Creative Group has Miami's social itinerary – Dec. 1-15
If you're looking for more Art Basel tips and tricks, look elsewhere. We're here to show that Miami's got all your cultural needs covered, even outside of Miami Art Week and its vibrant debauchery. As we roll into December, with two big holidays behind us and many more to come, our city is putting on its best. Every corner of Miami has amazing happenings, especially a lot of yoga, for you and all your friends in town. Check it out:
Thursday, Dec.  1
Design Thinking for Miami – For the past 11 weeks, Design for Miami students have been hard at work solving problems for Miamians living below the poverty line. Issues likes reducing emergency room dental visits, increasing parent and teacher involvement in creative classes, transportation alternatives, and increasing course graduation rates for tech classes. See their final presentations.
Where: The Idea Center – 315 NE 2nd Ave. Time: 6:30 p.m. – 8 p.m. Tickets: Free w/ RSVP.
Kansas City Choir Boy – Experience Courtney Love and Todd Almond up close in the 200-seat Carnival Studio Theater. The show is a theatricalized concept album about love altered by unexpected fate. A mystery told through flashbacks, the show tells the story of two lovers in small town America who separate when one goes in search of destiny and then disappears.
Where: Adrienne Arsht Center – 1300 Biscayne Blvd. Time: 8 p.m., Nov 30th – Dec 11th. Tickets: Get em here.
Friday, Dec.  2
OM Unity – OM Community is a fun gathering for all coming together to connect, experience and expand. In this remixed edition we will incorporate their signature Soul Sweat bootcamp style workout into the mix. Get ready to sweat, breath and enjoy bliss. Miami's top movement leaders offer their knowledge, wisdom and love. This class is open to all levels and FREE, all you need is a mat, water and a friend.
Where: OM Movement – 2895 McFarlane Rd. Time: 6:30 p.m. – 8:30 p.m. Tickets: Free w/ RSVP.
Saturday, Dec.  3
Traffic Jam – MDC Live Arts confronts an aggravating topic with humor and creativity, via renegade musician Steve Parker's project: TRAFFIC JAM. featuring Miami's first ever vehicular orchestra, where audience members play their car horns, windshield wipers, and headlights in time. Other Traffic Jam "Car-nival" activities include: a Make Out Point and TailGate Trivia by Emerge Miami ; a mixed ability dance performance with live musical score & more.
Where: MDC – Wolfson/Freedom Tower – Parking Lot 1. Time: 3 p.m. – 5 p.m. Tickets: Free.
Haute to Death – Jon Dones and Ash Nowak are the DJs and masterminds behind Detroit's most coveted underground nightlife staple. The nine year running monthly has become the social center of gravity for Detroit's thriving creative and music scenes. Think : Warhol's Factory if it was a dive bar turned discotheque.
Where: The Anderson Bar – 709 NE 79th St.. Time: 10 p.m. – 3 a.m. Tickets: Free.
Sunday, Dec.  4
3rd Annual Swig n' Swine – Swig n' Swine is a gathering of cocktail professionals and enthusiasts together under the lovely December  sky (rain or shine!) in Miami with lots of pigs, punch, games, music, and more – all in the spirit of giving back to the community. This year, all proceeds from ticket, t-shirt, and merch sales will benefit the very deserving Overtown Youth Center.
Where: The Broken Shaker – 2727 Indian Creek Dr. Time: 2 p.m. – 7 p.m. Tickets: Get em here.
India: As It Is – A multimedia exhibit, INDIA: AS IT IS creates complete sensory immersion into the mystical birthplace of Yoga, Hindustani music, knowledge and culture. Visual Projects, surround sound excerpts, a multi-sensory telling of India. The evening will begin with classical Raja Yoga followed by a live concert performance of Indian-influenced experimental music by Fernando Subirats and Classical Raag by Rajesh Ramoutar and Rajesh Bhandari.
Where: Inhale Miami – 6310 NE 2nd Ave. Time: 6 p.m. – 11 p.m. Tickets: Get em here.Monday, Dec.  5
Sky wave Yoga at 1111 – Come together with community to create an energetic presence in the heart of Miami Beach with a sacred yoga flow and live crystal bowl sound bath on the top deck of the 1111 Lincoln Road landmark parking garage. Jodina Carey returns to lead body and mind through a sunset service with proceeds go to benefit the WDC, Whale and Dolphin Conservation.
Where: 1111 Lincoln Road. Time: 6 p.m. – 8 p.m. Tickets: $11 Cash.
Thursday, Dec.  8
Tamboka at Dance Band Night – Second Thursdays at the Bandshell, it's Dance Band Night – put on your dancing shoes and enjoy a free night of music under the stars. This edition features cumbia-gypsy group TAMBOKA in concert. Preshow dance lesson and happy hour with Hanan A Rama, who will teach bellydance and gypsy dance moves.
Where: The North Beach Bandshell – 7275 Collins Ave. Time: 7 p.m. – 10 p.m. Tickets: Free.
Nu Deco Ensemble Season 2 Concert 2 – Experience the music of Jorge Mejia, Bryce Dessner, and Kraftwerk, as well as the world premiere of composer Ricardo Romaneiro's "TRANS." On this performance they are excited to share the stage with violin virtuoso Kishi Bashi, who has recorded, toured, and collaborated with Regina Spektor, Sondre Lerche, and of Montreal.
Where: The Lightbox at Goldman Warehouse – 404 NW 26th. Time: 8 p.m. (sharp). Tickets: Get em here.
Friday, Dec.  9
Public Transit Day – On Dec.  9th, elected leaders and engaged locals will all be showing off their commitment to strengthening our Public Transit system in by getting on board on #PublicTransitDay! Take the pledge, save the date, USE public transit, and join in the community day of action. Folks across Miami were so inspired by this initiative, they've joined in to host an insane array of pop-ups, music events, and other surprises at transit stations and citywide attractions all over town.
Where: Miami, FL. Time: 7 a.m. – Midnight. Tickets: Free.
Buskerfest Miami – Local musicians, theater groups, comedians, acrobats, dancers and more will be showcasing their talents at ground level of the Metromover Inner Loop stations and select satellite locations, the historical Olympia Theater and Miami Center for Architecture & Design, Inc., the host of the Buskerfest Miami Children's Corner.
Where: Metromover Inner Loop – Downtown. Time: 4 p.m. – 7 p.m. Tickets: Free.
Saturday, Dec.  10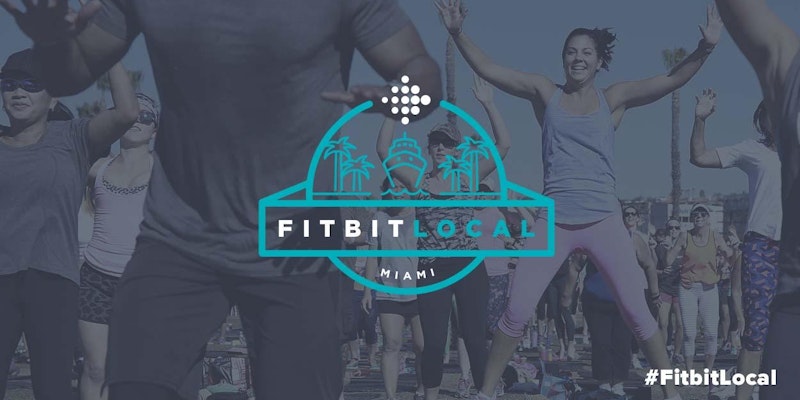 Fitbit Local – Fitbit Local Ambassadors and Miami's top trainers, Suyumi Quiroz and Jennifer Pansa will lead an energizing, all-levels workout that combines a bodyweight bootcamp and yoga flow. They'll have a live DJ to keep you pumped and lots of excitement afterwards—including healthy snacks from KIND Snacks & Vita Coco, free t-shirts and a raffle with product giveaways.

Where: Island Gardens – 888 MacArthur Causeway. Time: 9:30 a.m. – 11:30 a.m. Tickets: Free w/ RSVP.
The Raddest Craft Fair: Holiday Edition – The Raddest Craft Fair is back and ready for all your holiday gift needs. Spend a breezy Saturday awakening your inner child with a complete lineup of innovative and hands-on workshops that will bring out the budding creator inside of you. We'll be bringing every type of craft under the sun from watercolor, to calligraphy, macrame and more. Plus, enjoy live music by charming local songwriters like The Good Nites and Alex Di Leo Music!
Where: The Wynwood Yard – 56 NW 29th St.. Time: 1 p.m. – 4 p.m. Tickets: Free w/ RSVP.
Wynwood Brewing 3rd Year Anniversary – Enjoy amazing beers, the best food-trucks in town and live music! Live rock 'n roll, food trucks and beer, including some guest draughts. For this celebration, WBCo will close 24th Street to local traffic from NW 6th Avenue to NW 5th. Getting in is free, but $6 beer tickets will be available for sale with proof of 21+ ID.
Where: Wynwood Brewing Co. – 565 NW 24th St.. Time: Noon – 11 p.m. Tickets: Free.
The Heavy Pets Holiday Ball – Brotherly Love Productions, Delivery Dudes and Old School Square have teamed up with The Heavy Pets to present South Florida with an intimate Holiday Ball at the historic Crest Theatre of Old School Square in Delray Beach benefitting Toys For Tots and Caring Kitchen. The Heavy Pets, Mike Mineo and Guavatron will perform throughout the evening complimented by the Because of the Lotus projection-mapped art installation and live art by Gina White.
Where: Old School Square Crest Theater – 51 N Swinton Ave., Delray Bch. Time: 8 p.m. – 1 a.m. Tickets: Get em here.
Classic Album Sundays – Join local music masters, Sweat Records for the sixth Miami edition of Classic Album Sundays and the last one of 2016. This month's album is D'ANGELO's "VOODOO" (2000) which will start early because as as a special treat they'll be following it with ERYKAH BADU's "BADUIZM" (1997). Hear them both on one of the planet's most incredible analog sound systems!
Where: Sweat Records – 5505 NE 2nd Ave. Time: 5 p.m. – 8 p.m. Tickets: Free.
The Barnacle Under the Moonlight – End your weekend on the perfect note with a great evening of live music under the moonlight as The Barnacle Society presents Funk Pedal. Bring a picnic, blanket and lawn chairs and spread out on the spacious, bayside front lawn as lead singer Von Henry and guitarist Don Slesnick perform a fantastic and eccentric mix of genres assembled to take fans on a musical journey.
Where: The Barnacle Historic State Park – 3485 Main Hwy. Time: 6:30 p.m. – 8:30 p.m. Tickets: $10 for adults.
Wednesday, Dec.  14
Friends of Miami-Dade Public Libraries Annual Book Sale – Join Friends of the Miami-Dade Public Library for its 25th Annual Book Sale at the Main Library, 101 West Flagler Street. You can start donating books throughout the year at a Miami-Dade Branch Library.
Where: Miami-Dade Main Library – 101 W Flagler St. Time: 9 a.m. – 5 p.m., Dec.  14th – 17th. Tickets: Free.
Namaste and Have a Pint – The second Wednesday of every month is FREE yoga night at the Social Hall. Concrete Beach Brewing has teamed up with Love Life Wellness Center to offer a monthly beginner yoga class at 7pm followed by $4 pints for participants the rest of the night. Space is limited so arrive early.
Where: Concrete Beach Brewery – 325 NW 24th St.. Time: 7 p.m. – 8 p.m. Tickets: Free.