Florida Supercon 2016
The organizers of Florida Supercon are aiming to smash last year's record of 51,000 attendees packing into the Miami Beach Convention Center by offering a 700-plus hour program this year. They must be confident in their efforts given that this year's four-day extravaganza runs from July 1-4. Maybe they figure Independence Day beachgoers can hit the sand before or after attending.
As if superheroes, anime, comic book, sci-fi and video game characters and fantasy play favorites weren't enough, this year they're joined by a hefty roster of pro wrestlers. Here are the things that have us excited about this year's Florida Supercon.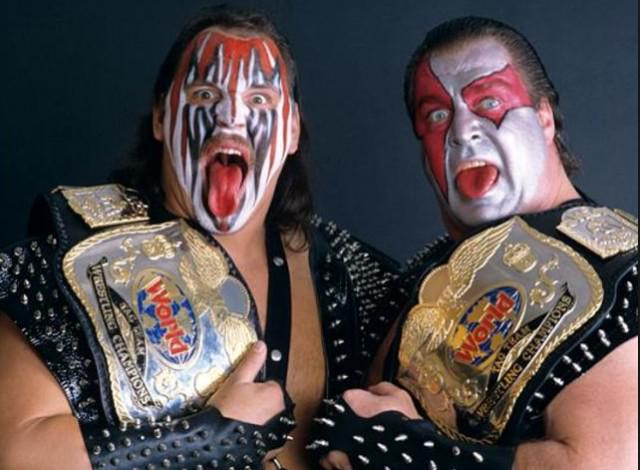 Ax and Smash of Demolition
Pro Wrestler appearances
They'll be out of the ring and hanging out around the Convention Center and perhaps be a bit intimidating. Road Warrior Animal of the tag team Road Warriors/The Legion of Doom; the Kiss-like face-painted three-time WWF Tag Team Champs Demolition (Ax and Smash); legendary wrestler, best-selling author and stand-up comic Mick Foley; WWE Hall of Famer The Godfather; female Global Force wrestler Mickie James; legendary 1970s superstar wrestler and color commentator Jerry "The King" Lawler and former three-time wrestling champ Diamond Dallas Page will all make appearances. 
Celebrity guests
Dust off the autograph book (and bring plenty of cash) because it will be a Who's Who of celebs from the sci-fi, anime, cartoon and comic book worlds. Voice actors and actors your favorite shows, past and present, will be present. The main event, though, is the 50th Anniversary of "Star Trek," with appearances by former cast members like legendary William Shatner (Captain Kirk) plus Walter Koenig (Chekov), Michael Dorn (Worf) and many more.
Also schedule to appear is "Gotham" star Ben McKenzie (Jim Gordon), "Doctor Who" actor Alex Kingston (River Song) plus cast members of "The Walking Dead," "Star Wars," "TRON," "Game of Thrones," "Sesame Street" and more. Meet actors who voice Pearl, Amethyst, Peridot and the main character Steven all of "Steven Universe" on Cartoon Network, Nancy Cartwright who voices Bart Simpson in the longest-running cartoon "The Simpsons" and Devon Murray who plays Seamus Finnigan in the "Harry Potter" film series.
Cosplay events
The highlight of attending Florida Supercon is the cosplay or dress-up part and the event wouldn't be complete without plenty of opportunities to converge with fellow cosplayers. Events include a full-on costume competition where attention to every last detail is essential to winning. Get into character in the Masquerade Costume and Performance Competition, stick around for the Superboys & Supergirls "late night" costume contest and gamers aren't left out, there's a video game costume contest. Runway contests, a Pokeball, The Federation Gala Ball ("Star Trek") and Disney & Dancing round out the cosplay fun.
Super Geek Film Festival
No offense intended, that's the actual name of the event within Florida Supercon. At the Super Geek Film Festival the celluloid geek culture is fully represented no matter what you're into. Documentary, narrative, animation, experimental and fan films will be screened throughout the four days. A Superhero romance, a clean living documentary, a film starring the Justice League and "Loose Ends" starring and directed by YouTube sensation Anna Akana, are some of the highlights. Plus, there are plenty of zombie-filled flicks, animated and satire and comedy shorts.
Supercon Gaming events
You've got more than a week to perfect your gaming skills so grab some couch before you head to Supercon. The gaming contests are a huge part of the four-day craze and it's where you'll also get a sneak peek at the latest and upcoming releases in the gaming world. Games from Xbox One, WiiU, PC, Gamecube and Playstation 4 are all part of competition. That means you can compete in Super Smash Bros., Rocket League, Mario Kart 8, Street Fighter V, Mortal Kombat X, Halo and Skullgirls contests. If you're more retro, check out the Florida Arcade Pinball Exposition or play in the Pokemon 3DS League.