6 secret courtyards in Miami that you should check out
Chances are you've been to many of the places we're about to single out here and while some have courtyards that are more visible, others have beautiful ones that are hidden from view. One thing that's for certain, you should make a point of checking them out for a true 305 hidden gem experience.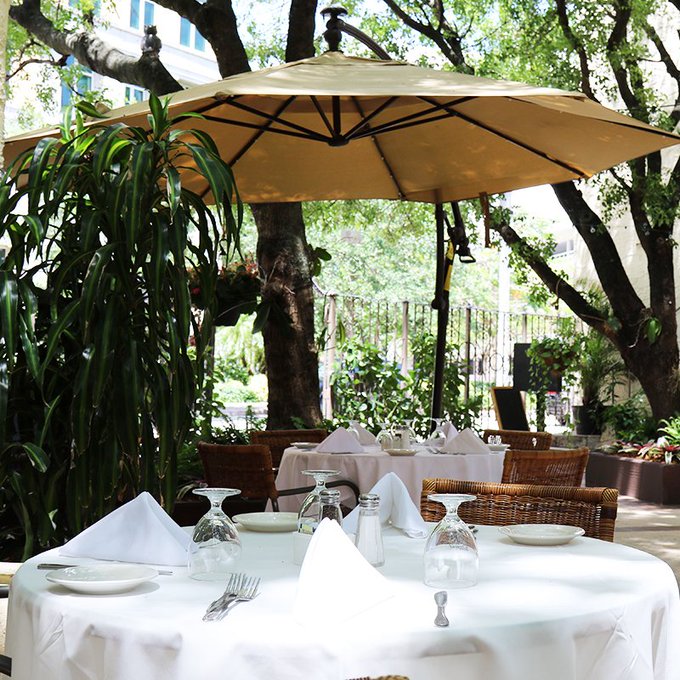 La Palma Ristorante & Bar
116 Alhambra Cir., Coral Gables; 305-445-8777, lapalmaristorante.com/ 
Once you've taken in the historic architecture and beauty of the building that houses this Italian restaurant, prepare to be wowed by the breezy, shaded courtyard with a European-inspired stone fountain as the focal point. Skip the tables inside and opt instead to dine on delectable traditional Italian fare amongst lush greenery and tall shade trees that illuminate at night with whimsical lights. 
Cubaocho Museum & Performing Arts Center
1465 SW 8th St., Miami; 305-285-5880, www.cubaocho.com/
At first glance this place looks like a somewhat cheesy spot along Little Havana's Calle Ocho (SW Eighth St.). And, you'll probably have to elbow your way through tourists who just got off the tour bus that's parked across the street. Once you get past them and step inside (and maybe buy a Cuban cigar or two), make sure to walk through to the back. You won't believe the gorgeous courtyard that's hidden back there. A central fountain, lush palms and stone angel statues make this a place to reach your inner Zen. 
Doce Miami Provisions
541 SW 12th Ave., Miami; 786-452-0161, www.doceprovisions.com
When you arrive at Doce Miami, walk straight through, skip the indoor seating and head out back. There awaits an adorable courtyard where the entire eating and drinking experience is elevated to another level. The carefully crafted food should be enjoyed in an ambiance of glowing strings of lights, a colorful mural-covered wall, cobblestone patio and pretty landscaped fountain.  
Ancient Spanish Monastery
16711 W. Dixie Hwy., North Miami Beach; 305-945-1461, www.spanishmonastery.com
Yes, the grounds of this historic structure are one giant garden so courtyards are a given, but wander around and make a few discoveries. Your instinct will tell you to walk through the main gardens and then explore the monastery and chapel. That's fine but as you're headed back to the main building, veer to the left and find a sign enticing you to venture off the beaten path. That's where you'll find a beautiful hidden courtyard and further down a statue nestled underneath a giant tree. Now your experience at this landmark attraction is complete. 
Española Way
Washington Ave. between 14thand 15th Streets, Miami Beach  
Lincoln Road and Ocean Drive get all the glory on South Beach but when is the last time you checked out Española Way? If you still haven't visited this spot you're missing out on a sweet gem of a street. It's just two blocks long but the Spanish colonial architecture, shade trees, restaurants with sidewalk café tables and stores make this a true charmer. The quaint two-block stretch is like walking through one long courtyard. 
Peacock Garden Café
2889 McFarlane Rd., Coconut Grove; 305-774-3332, jaguarhg.com/peacockspot
Of course we had to put Coconut Grove on this list. The trees and foliage in the still somewhat Bohemian neighborhood are a sight to behold and they are in their full glory at Peacock Garden Café. You don't have to drive far in to the Grove to find this place, it's about mid-way down McFarlane Rd. The inviting entrance is the perfect welcome into this garden haven. This, too, is one giant courtyard with a breezy, laid-back vibe, huge tree surrounded by colorful flowers and hanging jars. This is true, typical Coconut Grove at its best.