6 free and cheap events in Miami this weekend – Sept. 16-18
We've got the highlights on the free and cheap things to do from dancing to live music to nature loving to scouting to driving hot cars. 
Moving music
Let's start with the musical experiences available this weekend. We've highlighted three here:
Sounds of Little Haiti: This free family-friendly event highlighting Haitian culture features live music by Zenglen (pictured) on Sept. 16 at the Little Haiti Cultural Complex.  
Day into Night: Enjoy a free day filled with music of all sorts – including mellow sounds from Ivo Carvalho, fusion sounds from Agape, Afro-Latin soul with Jay Rodriguez, Disco with DJ Richie Jones and more – in the Miami Design District on Sept. 17. 
If you like eclectic hip hop, Orange Flight kicks off their "Eyes Blurry Tour" with a special free performance on Sept. 17 at The Wynwood Yard.
Soaring birds and floating butterflies
Discover the birds and butterflies living in Miami-Dade during "Butterfly and Bird Day," on Sept. 17 at Castellow Hammock Preserve and Nature Center in South Miami-Dade, which includes an early morning guided bird walk by an expert from the Tropical Audubon Society. Admission and activities are free, and they also include children's entertainment. 
Scouting around
Be a scout for a day at the Deering Estate on Sept. 17 for "Play Day," a day of free admission. Learn how to tie a knot, race a derby car or a rain gutter boat, learn how to identify birds, and more. There are also the usual activities on Play Day, including mini canoe rides, meeting the zoo squad and more.
Dreamy cars
Dreaming of that Ferrari? The 46th Miami International Auto Show runs now through Sept. 18 at the Miami Beach Convention Center. Hundreds of cars, trucks, vans, sport utility vehicles, hybrids and concept cars are exhibited by the world's leading automotive manufacturers. Don't miss Million Dollar Alley. (Hey, dreaming is free!) There's a $2 discount on that $15 admission price so visit our link for more details.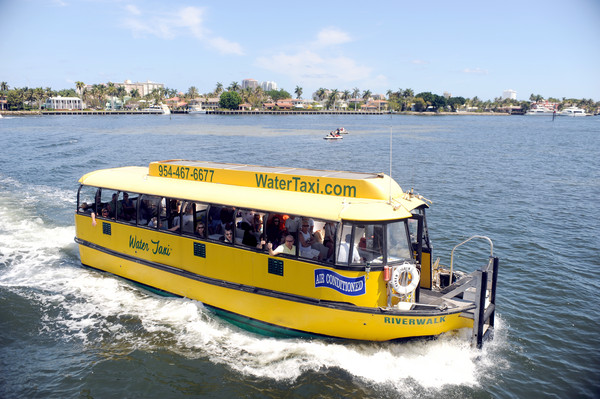 Kids ride free on water taxis in Fort Lauderdale this month
Have you taken a boat ride down the Intracoastal Waterway? It's a beautiful scene, and a wonderful way to hop from one bar or restaurant to another. Throughout September, the Water Shuttle in Broward is offering free fares for kids, ages 15 and younger. Painted in a bright flamingo tone, one can't miss seeing the Water Shuttle boats ferrying passengers to select points on the waterways of Fort Lauderdale.
To keep up with latest news on deals, discounts and free events in South Florida, sign up for the daily Miami on the Cheap newsletter or the daily Fort Lauderdale on the Cheap newsletter. To submit an event or deal, click here.  For more tips on what to do this weekend, read the frequently updated Miami on the Cheap weekend roundup of free and cheap events and the Fort Lauderdale on the Cheap weekend events and deals roundup.