6 Best Places to Take Miami Newbies
Have friends and family visiting you in the Sunshine State? Provide them with the trip of their life and check off our Miami bucket list. Warning: Slight envy and constant FOMO may ensue following their trip home.  
For Food: Versailles Restaurant
Photo Courtesy of Versailles Restaurant 
Country cooking may be a staple of the South, but not our South. We'll even go as far as saying that Versailles is to Miami what In-N-Out Burger is to the West Coast—a delicious staple worth showing off and destroying your diet. Load up on café Cubano, croquetas and postres to give your guest the real epicurean experience. Pastelitos are good for the soul. 
3555 SW Eighth St., Miami 
For Shopping: Aventura Mall
Photo Courtesy of Aventura Mall 
What's a trip to Miami without a visit to the epicenter of fashion? With more than 300 stores, Aventura Mall is a trendsetter's playground. Renowned names like Burberry, Fendi, Cartier, and RED Valentino are just a few of the dreamy upscale boutiques to peruse. Did we also mention there is a two-story Louis Vuitton Maison? When you're finished gazing at the opulent appointments, don't forget to check out Turnberry for the Arts, a dynamic contemporary art collection found throughout the mall.
19501 Biscayne Blvd., Aventura
For Luxury: River Yacht Club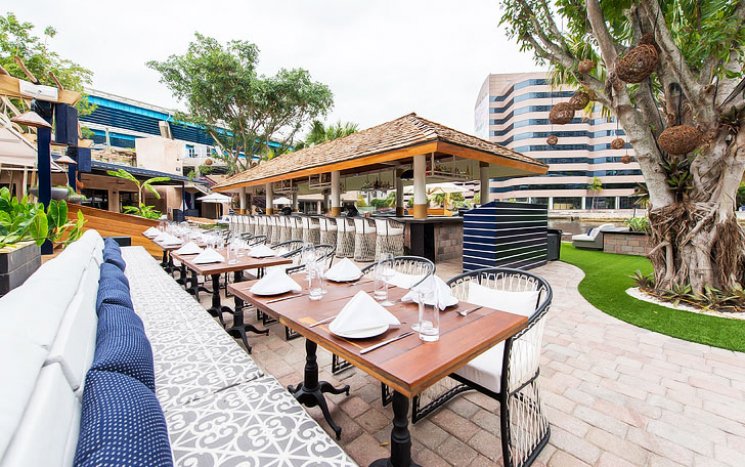 Photo Courtesy of River Yacht Club
Let's face it: Miami is a weird place to live. If you're not from here, there's a good chance you assume Miami is one big episode of "Ballers." The trappings of Miami's bespoke luxuries glitter through the city, especially at the River Yacht Club.  A marina, garden, and gourmet dining venue coalesce into a strangely beautiful hybrid of class  and culture. Did we mention that River Yacht Club has a rotating resident chef program with a pretty A-list deck of talent? Alex Chang is the most recent chef to take the throne, with a weighty resume that includes Palarad Supper Club in LA, Les Creations de Narisawa in Tokyo and Vagabond in Miami.
401 SW Third Ave., Miami
For Culture: Pérez Art Museum Miami
Via Visit Florida 
Regardless of being on or off Art Basel season, art is part of Miami's DNA. Visit the heartbeat of contemporary and modern art at the Pérez Art Museum Miami.  
1103 Biscayne Blvd, Miami
For Adventure: Jungle Island 
Photo Courtesy of Jungle Island 
Skip the 9,033-mile trip to Madagascar—the world's most interesting animals can be found in the 55 square miles of Miami. Jungle Island has more than 450 unique animals for you to get up close and personal.  Is there anything better than following a morning cafecito with a play date with a lemur? We think not.  Following the exotic encounter, you can stop by Parrot Cove, Jungle Island's private beach.
1111 Parrot Jungle Trail, Miami
For a Getaway: Fontainebleau
 Photo Courtesy of Fontainebleau 
If your guests are looking for history, Fontainebleau Miami Beach is an iconic landmark left standing from the golden era. It's been a gem on Collins Avenue for more than half a century, bringing guests in from around the world. Pro tip: After a relaxing trip to Lapis Spa and a day at the pool, visit La Côte. The recently revamped, two level Côte d'Azur-inspired restaurant offers astonishing panoramic views of the Atlantic Ocean.
4441 Collins Ave., Miami Beach