Events in Miami this weekend June 24-26
Friday, June 24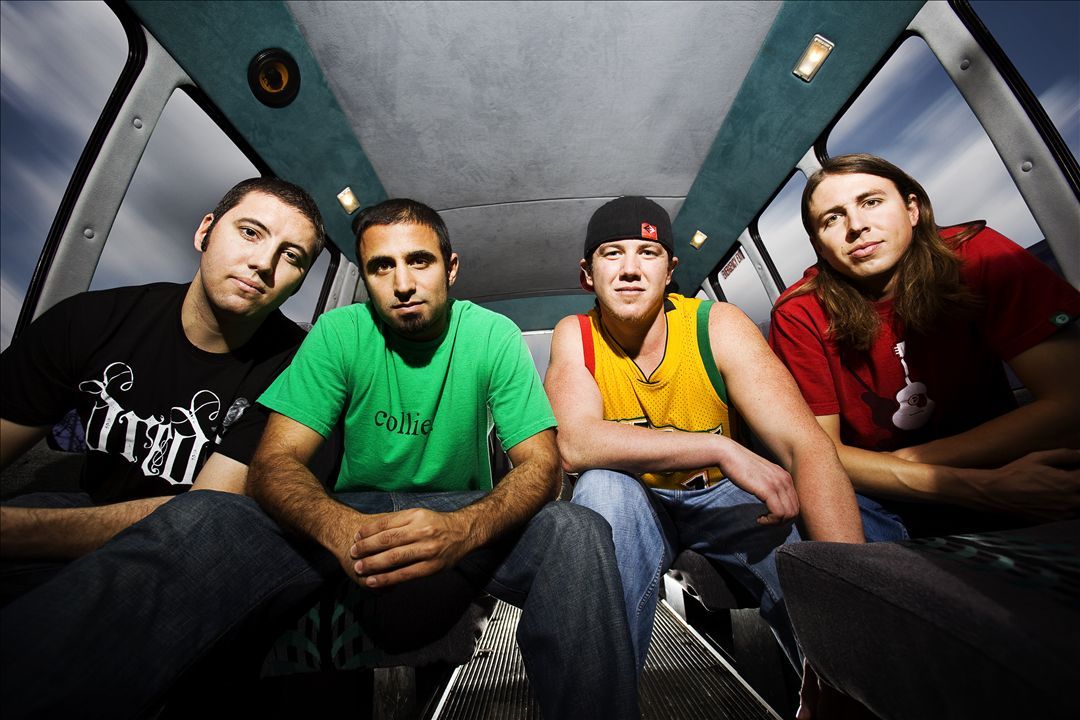 FALLING INTO PLACE SUMMER TOUR
REBELUTION
California roots reggae band takes the stage in support of its fifth studio album, "Falling Into Place," and the singles "Know It All" and "Upper Hand." Opening acts: The Green + J Boog, Stick Figure and Through the Roots.
Details: 5:30 p.m. Friday at Sunset Cove Amphitheater, 20405 Amphitheater Circ., Boca Raton; Ticketmaster; $32.50.
MODERN-ROCK SHOWCASE
TASTE OF CHAOS
Rockstar Energy Drink presents headlining act Dashboard Confessional, a beloved emo band led by Boca Raton's Chris Carrabba, who will pour his heart and soul into fan faves including "Stolen," "Don't Wait," "Vindicated" and "Screaming Infidelities." Taking Back Sunday, The Early November and Saosin round out the bill.
Details: 6:30 p.m. Friday at Bayfront Park Amphitheatre, 301 Biscayne Blvd., Miami; LiveNation.com; $30.75-$56.70.
A REAL STAND-UP GUY
JOHN HEFFRON
Comedy fans will remember this Detroit funnyman for winning the second season of "Last Comic Standing" way back in 2004. Since then, he's dabbled in a bit of everything, including releasing four CDs, an advice book, and even a board game called "That Guy Game." This weekend, you'll have five chances to see Heffron do what he does best: stand-up.
Details: 7:30 and 10 p.m. Friday, 7 and 9:30 p.m. Saturday, and 7 p.m. Sunday; at the Palm Beach Improv, 550 S. Rosemary Ave., Ste. 250, West Palm Beach; 561-833-1812 or www.palmbeachimprov.com; $20.
GOT BASS?
SKRILLEX
Former lead singer (as Sonny Moore) for the post-hardcore band From First to Last who went on to find bigger fame as perennial Grammy-winning dubstep god Skrillex will tear up the dance floor with his vicious, bottom-heavy beats.
Details: 11 p.m. Friday at Story Miami, 136 Collins Ave., Miami Beach; www.flavorus.com; $30-$50.
Saturday, June 25
ROCK ON
BUCKCHERRY
Grammy-nominated Anaheim hard-rock band that found success a decade ago with the album "15," featuring the platinum-selling singles "Crazy Bitch" and "Sorry," takes the stage in support of its seventh studio album, "Rock 'n' Roll." Opening is Las Vegas alt-metal band Adelitas Way ("Invincible").
Details: 7 p.m. Saturday at Pompano Beach Amphitheater, 1806 NE 6th St., Pompano Beach; Ticketmaster; $28-$68.
SOLDIERING ON
LOS VAN VAN 
Legendary post-revolution Cuban band that fuses son montuno and rumba with rock, pop, funk, hip-hop and electronic music continues after the loss of its late bandleader and bassist Juan Formell, who died in 2014.
Details: 8 p.m. Saturday at the Fillmore Miami Beach at Jackie Gleason Theater, 1700 Washington Ave., Miami Beach; LiveNation.com; $48.75-$68.75.
HIP-HOP HOORAY
B.o.B.
Eclectic rapper and producer is best known for his 2010 No. 1 album "B.o.B. Presents: The Adventures of Bobby Ray," which spawned the hit "Nothin' on You" (featuring vocals by the incomparable Bruno Mars), as well as future hits "Airplanes," "Magic," "Strange Clouds," "So Good" and "Both of Us." Scotty ATL and London Jae open.
Details: 9 p.m. Saturday at Hangar 305, 60 NE 11th St., Miami; Ticketmaster; $20-$99.
Sunday, June 26
SUNDAY FUNDAY
MIAMI MARLINS
Cheer on the Fish against the mighty Chicago Cubs, and the first 5,000 kids will receive a pair of Marlins Kids Baseball Socks. Plus, children 12 and under can take part in the traditional Diamond Dash and run the bases after the game. 
Details: Game time is 1:10 p.m. Sunday; Marlins Park West Plaza, 501 Marlins Way, Miami; www.marlins.com/entertainment; tickets start at $16.
CELEBRATING CULTURE
CARIBBEAN-AMERICAN FESTIVAL
Soak up the spirit of the Caribbean with this fun-for-the-whole-family event featuring live music from a steel band, reggae and soca artists, plus DJs; a delicious Island Food Pavilion; dance contests (brush up on your limbo-ing!; hula-hooping; arts & crafts; plenty of exhibitors and vendors; and a Kids Zone.
Details: 3-9 p.m. Sunday at the Lauderhill Performing Arts Center, 3800 NW 11th Place, Lauderhill; www.lpacfl.com; free.
GOTH-ROCK KINGS
THE CURE
Two chances to catch this iconic British band led by singer Robert Smith as it performs beloved anthems including "Boys Don't Cry," "Let's Go to Bed," "In Between Days," "Just Like Heaven," "Close to Me," "Lovesong," "Pictures of You," "Friday I'm in Love" and many more. Opening is Scottish shoegazing post-punk band The Twilight Sad.
Details: 7 p.m. Sunday and Monday at Bayfront Park Amphitheatre, 301 Biscayne Blvd., Miami; LiveNation.com; $39.50-$450.
EMERSON, LAKE & PALMER LEGACY TOUR
CARL PALMER
Drummer of the legendary British prog-rock supergroup, named by Rolling Stone as one of the 10 greatest drummers of all time, celebrates his 50th year in music with a show honoring ELP, including fan faves such as "Take a Pebble," "Tarkus," "From the Beginning" and "Lucky Man."
Details: 7 p.m. Sunday at Arts Garage, 180 NE First St., Delray Beach; 561-450-6357 or www.artsgarage.org; $45-$60.
Next Week
THE HUMAN CONDITION TOUR
JON BELLION
You might not recognize this R&B/pop singer and songwriter's name, but you've definitely heard his work: That's his voice on Zedd's EDM hit "Beautiful Now" – and he also co-wrote Eminem's Grammy-winning hit "Monster," plus Jason Derulo's "Trumpets." He takes the stage in support of his debut album, "The Human Condition," which dropped June 10.
Details: 7 p.m. Tuesday at the Culture Room, 3045 N. Federal Hwy., Fort Lauderdale; www.cultureroom.net; $18.
THE DAN WHO KNEW TOO MUCH TOUR
STEELY DAN & STEVE WINWOOD
Legendary duo of Donald Fagen and Walter Becker performs classic-rock staples including "Do It Again,"
"Rikki Don't Lose That Number," "Reeling in the Years," "My Old School," "Black Friday," "Peg," "Deacon Blues" and "Hey Nineteen." Don't be fashionably late, because the legendary Steve Winwood opens, and he's sure to play hits such as "While You See a Chance," "Valerie," "Back in the High Life Again," "Higher Love" and "Roll With It."
Details: 7 p.m. Wednesday at Perfect Vodka Amphitheatre, 601 Sansbury's Way, West Palm Beach; LiveNation.com; $39-$139.
LATIN SHOWCASE 
CHINO Y NACHO
Two chances to catch this Latin Grammy-winning Venezuelan duo that blends merengue, reggaeton, salsa and Latin pop, which takes the stage in support of its fifth studio album, "Radio Universo." Fellow Venezuelan tropical band Guaco joins the bill.
Details: 8 p.m. Thursday and July 1 at the Fillmore Miami Beach at Jackie Gleason Theater, 1700 Washington Ave., Miami Beach; LiveNation.com; $68.75-$111.
free for all
JAZZ AT MOCA
8-9:15 P.M. FRIDAY: Love world music with intricate melodies, groovy rhythms, and deep, powerful lyrics with a message of unity and love? Check out Afro-Latin fusion band Lanzallamas Monofonicas at the Museum of Contemporary Art, 770 NE 125th St., North Miami; www.mocanomi.org.