Events in miami this weekend August 12-14
Friday
, Aug. 12
ROCKING FOR CHRIST
OUTCRY TOUR
Annual gathering of Dove Award regulars includes Australian Christian praise and worship group Hillsong Worship, plus contemporary Christian singer Kari Jobe, Northern Irish experimental-folk worship group Rend Collective, Housefires, Urban Rescue and speaker Chad Veach.
Details: 6:30 p.m. Friday at Bayfront Park Amphitheatre, 301 Biscayne Blvd., Miami; LiveNation.com; $21.70-$45.70.
SUMMER IN THE CITY
EAGLES TRIBUTE
Get a peaceful, easy feeling as the band The Long Run harmonizes on all your favorite Eagles songs, including "Tequila Sunrise," "Take It Easy," "Life in the Fast Lane," "Best of My Love," "Witchy Woman," "Already Gone," "Take It to the Limit," "One of These Nights" and "Hotel California."
Details: 7:30 p.m. Friday (Beer Garden opens at 6:30) at Mizner Park Amphitheatre, 590 Plaza Real, Boca Raton; www.myboca.us; free.
SO LONG, FAREWELL TOUR
MOTION CITY SOUNDTRACK
Minneapolis alt-rock band and Vans Warped Tour favorite brings its sound influenced by the Flaming Lips and Pavement to South Florida in support of its critically acclaimed sixth (and final) studio album, "Panic Stations." A Great Big Pile of Leaves and Rozwell Kid open.
Details: 7:30 p.m. Friday at the Culture Room, 3045 N. Federal Hwy., Fort Lauderdale; www.cultureroom.net; $25.
KING OF SHOCK-ROCK
ALICE COOPER
Rock and Roll Hall of Famer takes a break from playing golf (really – he's very good!) to perform epic hits and revive devilish theatrics such as wielding his bloody crutch like a bayonet and stroking a live boa constrictor. You're sure to hear the classic tracks "No More Mr. Nice Guy," "I'm Eighteen" "Welcome to My Nightmare" and "School's Out."
Details: 8:30 p.m. Friday at the Broward Center for the Performing Arts, Au-Rene Theater, 201 SW Fifth Ave., Fort Lauderdale; Ticketmaster; $49.50-$89.50.
Saturday
, Aug. 13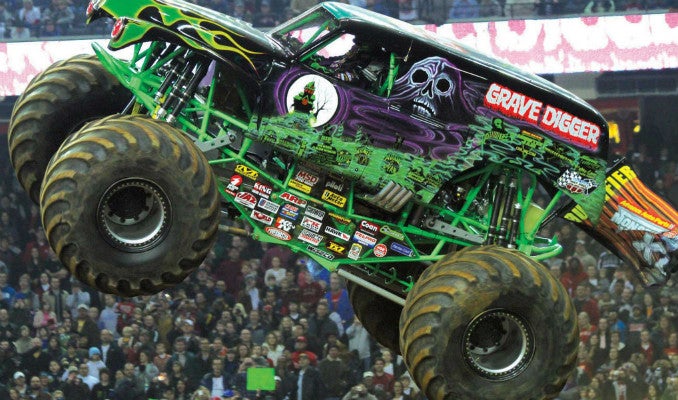 REV IT UP
MONSTER JAM
There's nothing like the adrenaline rush from seeing 12-foot trucks with 66-inch tires fly 35 feet into the air. Catch all your favorite Monster Truck stars – including Grave Digger, Fluffy, Gunslinger, El Toro Loco, Zombie, Carolina Crusher and the all-female Scooby-Doo – racing and performing tricks, jumps and flips at this action-packed, high-octane show.
Details: 2 and 7 p.m. Saturday and 2 p.m. Sunday (Pit Party 11:30 a.m.-1 p.m. both days), at the BB&T Center, 1 Panther Pkwy., Sunrise; Ticketmaster; $20-$53, $10 kids. 
BLEAULIVE PRESENTS
ELECTRIC MACK-A-POOLOOZA
Join Mack and the rest of the Y-100 clan for the second summer show of the Mack-a- Poolooza concert series, featuring high-energy beats by Dutch superstar DJ Afrojack (Pitbull's "Give Me Everything," David Guetta's "Hey Mama"), Alesso (pictured) and Steve Aoki.
Details: 3:30 p.m. at the Fontainebleau Miami Beach, Ocean lawn BleauLive Stage, 4441 Collins Ave., Miami Beach; www.bleaulive.com; packages start at $50.
ROCK ON
SLIGHTLY STOOPID
San Diego alt-rock band that mixes just about every genre into its playful sound, from punk, funk, reggae, blues, folk, dub, psychedelia and even hip-hop, takes the stage on the strength of its eighth studio album, "Meanwhile … Back at the Lab," with SOJA and Fortunate Youth opening.
Details: 5:30 p.m. Saturday at Sunset Cove Amphitheater, 20405 Amphitheater Circ., Boca Raton; www.pbcgov.com; $37.50.
THIS IS COUNTRY MUSIC
BRAD PAISLEY
The man who set a record for most consecutive No. 1 country singles with 10, from 2005-'08, performs hits including "Whiskey Lullaby," "She's Everything," "Then" and "Remind Me," plus tracks from his 10th studio album, "Moonshine in the Trunk," including "Crushin' It." You'll also hear the new "Without a Fight," a duet with Demi Lovato, from Paisley's upcoming album. Opening acts are Maddie & Tae and Tyler Farr.
Details: 7:30 p.m. Saturday at Perfect Vodka Amphitheatre, 601 Sansbury's Way, West Palm Beach; LiveNation.com; $25-$54.75. 
THE OUROBOROS TOUR 2016
RAY LAMONTAGNE
Grammy-winning New England singer/songwriter quit his job in a shoe factory to follow his dream, and lucky us. LaMontagne – whose best-known songs are "Trouble," "Beg, Steal or Borrow," "Supernova" and "You Are the Best Thing" – performs in support of his sixth studio album, "Ouroboros," featuring the single "Hey, No Pressure," with members of My Morning Jacket serving as his band.
Details: 8 p.m. Saturday at the Fillmore Miami Beach at Jackie Gleason Theater, 1700 Washington Ave., Miami Beach; LiveNation.com; $42.50.
A JAZZY BIRTHDAY
MARLOW ROSADO
Grammy-winning pianist and producer – who has worked with artists including Ricky Martin, Marc Anthony, Selena and Desmond Child – celebrates his birthday with a lively mix of salsa, merengue, rock and reggae sounds.
Details: 8 p.m. Saturday at Arts Garage, 180 NE First St., Delray Beach; 561-450-6357 or www.artsgarage.org; $30-$45.
MEMORIES OF ELVIS
CHRIS MACDONALD
Big Las Vegas-style show celebrates the King of Rock-n- Roll with highlights of the stages of Elvis Presley's iconic career: the 1950s, the movies, the black leather '68 Comeback, the white fringe '70s shows and more, all backed by a dynamic eight-piece band, horn section, singers and dancers. MacDonald is the only Elvis tribute artist ever hired to perform at Graceland's Heartbreak Hotel.
Details: 8 p.m. Saturday at Parker Playhouse, 707 NE 8th St., Fort Lauderdale;  www.parkerplayhouse.com; $27-$45.
Sunday
, Aug. 14
SUNDAY FUNDAY
MIAMI MARLINS
Cheer on the Fish against the AL's Chicago White Sox during Billy the Marlin's Birthday Bash, and the first 5,000 children will receive a Marlins Kids Bat Pack. Plus, children 12 and under can take part in the traditional Diamond Dash and run the bases after the contest.
Details: Game time is 1:10 p.m. Sunday; Marlins Park West Plaza, 501 Marlins Way, Miami; www.marlins.com/entertainment; tickets start at $16.
Next Week
REGGAE REUNITED
UB40
British reggae-pop band that has sold more than 70 million records on the strength of smash hits including "Can't Help Falling in Love," "I Got You Babe" and "Red Red Wine," is back with original lead singer Ali Campbell and fellow founding members Mickey Virtue and Astro. You'll hear all the faves, plus a few new songs. Opening is special guest Jo Mersa Marley.
Details: 8 p.m. Monday at Pompano Beach Amphitheater, 1806 NE 6th St., Pompano Beach; Ticketmaster; $28-$68.
STILL "AMAZING"
SEAL
Grammy-winning British-Nigerian singer with the unmistakable soulful, smoky voice brings his rich blend of pop, R&B and even electronic to the stage in support of his ninth studio album "7" (go figure). You'll also hear Seal mainstays including "Crazy," "Prayer for the Dying," "Kiss From a Rose," "Love's Divine," "Amazing" and his inspiring cover of Steve Miller Band's "Fly Like an Eagle."
Details: 8 p.m. Thursday at the Hard Rock Live Arena at Seminole Hard Rock Hotel & Casino, 1 Seminole Way, near Hollywood; Ticketmaster; $55-$85. 
free for all
FREE FRIDAY DRUM JAM
7-9 P.M. FRIDAY: Help make a joyful cacophony and express yourself as everyone is invited to try out all the percussion instruments, learn from each other, and jam! South Florida Center for Percussive Arts, 12600 SW 130th St. #9-10, Miami; www.thesfcpa.org; all ages.