Could This Be the Best Happy Hour in Miami: MO Bar + Lounge at the Mandarin Oriental
The sixth stop on our search for the Best Happy Hour in Miami took us to the Mandarin Oriental's posh MO Bar + Lounge.  
The Vibe: MO Bar + Lounge during happy hour is the kind of place you take a date you want to impress. It's for those who aren't afraid to splurge a little, yet don't want to break the bank. From its gorgeous river views to its well-manicured staff, MO Bar + Lounge boasts an atmosphere that is the perfect combination of hip, young style and refined sophistication. On Thursday and Friday nights, a live band plays jazz classics and old Latin favorites. During late afternoons, the sunlight streaming through the massive floor-to-celining windows is absolutely dazzling. But the real highlight at MO Bar is the service. Trained at the legendary Atrium in Chicago, Bar Manager Steve Minor is as passionate about making drinks as we are about tasting them. His creations range from simple cult classics with a spin, to complex inventions that are so beautiful to look at, they make you hesitant to take a sip. During our visit, he walked us through the inspiration behind every cocktail we tried, explained why the flavors blend so well together, and gave us a crash course on bitters. He says it's information he loves demonstrating for any guest, provided they show an interest. Minor and the staff are meticulously attentive to which drinks and dishes patrons finish quickly and which they let sit, making sure to ask us what guests like or don't like about each. They also seem to pick up guests' names after the initial introduction, making interactions feel personalized and familiar. Your water never dips below three-quarters full without a server rushing to your side armed with a fresh pitcher, and if you ask where the bathroom is they won't just point you in the right direction – somebody will personally escort you there. 
Prices/Deals: MO Bar + Lounge's happy hour runs Monday through Friday from 5-8 p.m. While it doesn't include food, it does features a selection of 15 craft cocktails organized by kind of liquor or style of drink. $25 will get you three drinks of your choice that you can share with a friend, and valet is $10 if you're eating/drinking at MO Bar. Here's what we tried:
New York Sour – (below) whiskey, lemon, simple syrup, egg white and red wine float (like sipping on a cloud).
Americano – Campari, red vermouth and club soda (for those who like it strong and bitter).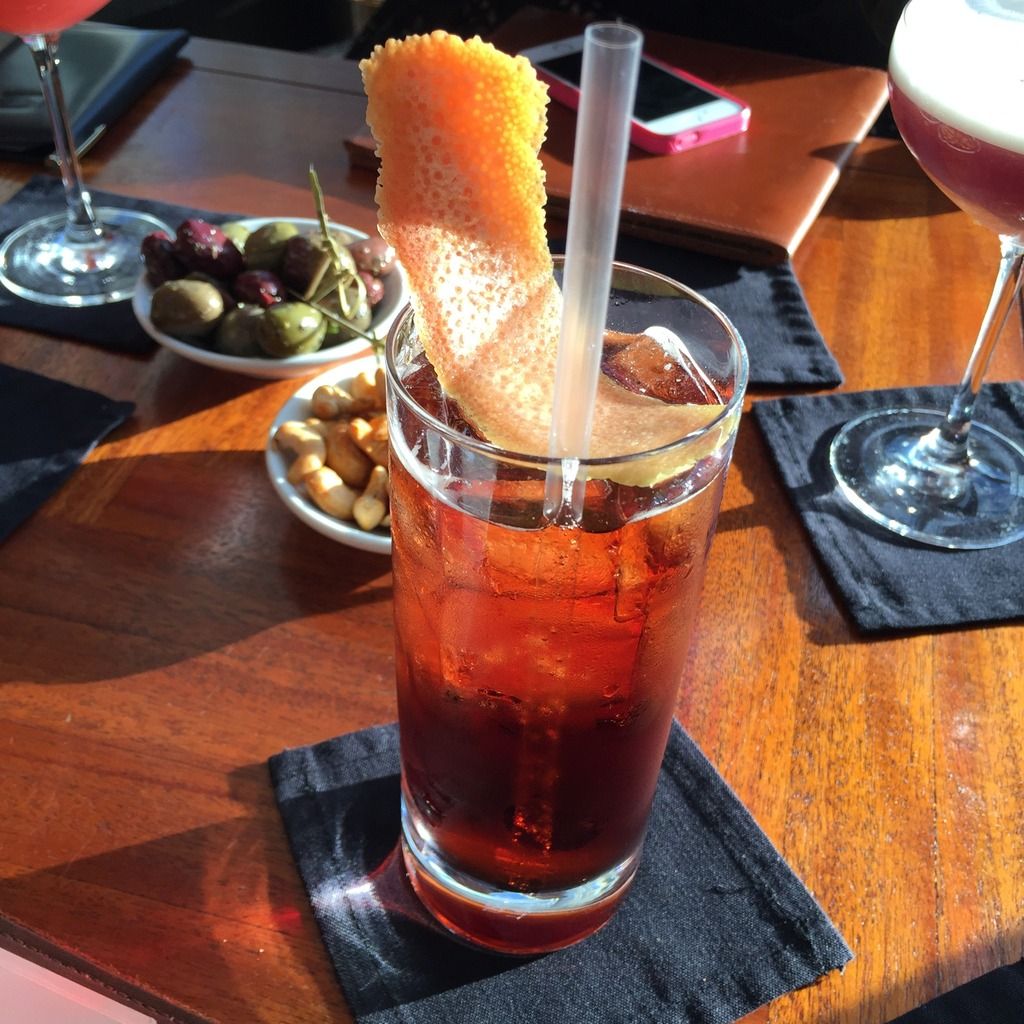 Pom Collins (below, right) gin, Papa liqueur, fresh lemon, grenadine and simple syrup.
Elerflower Spritz– (below, left) St. Germain, sparkling wine and club soda.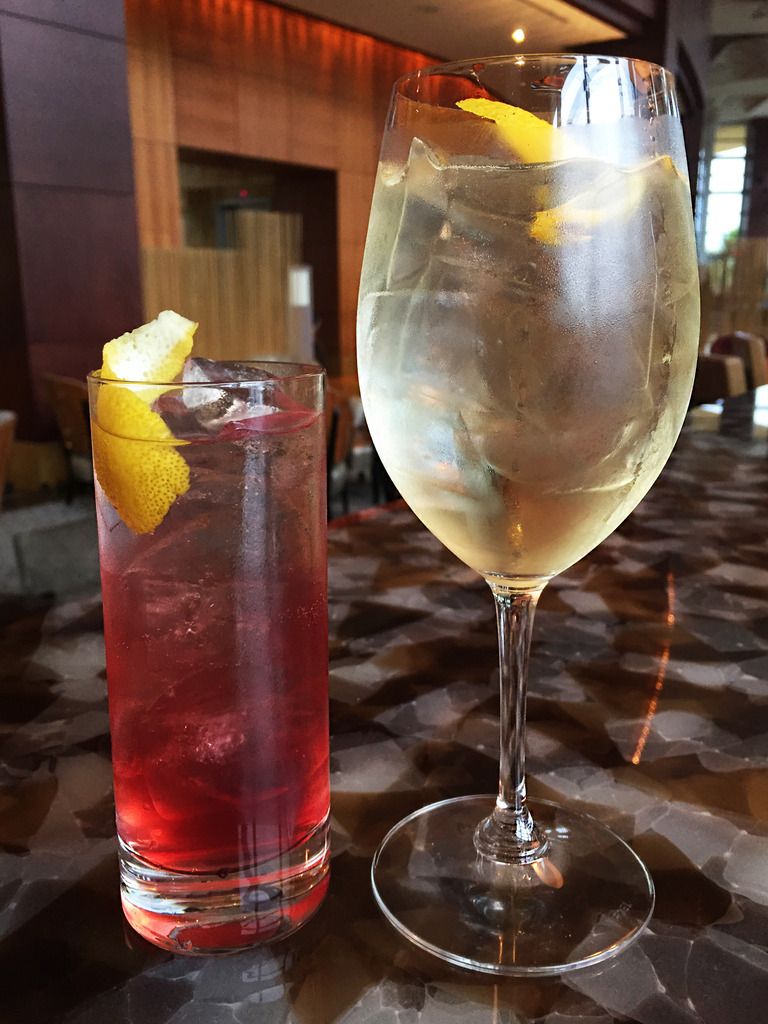 These aren't on the happy hour menu, but they were so good we felt we had to mention them anyway for those who end up sticking around past 8 p.m. (we certainly did!).
Southern Swizzle – (below) bourbon, ginger beer, creme de peche, peach nectar lemon, mint and Peychaud's bitters (easy to sip and simple enough for mixology newbies).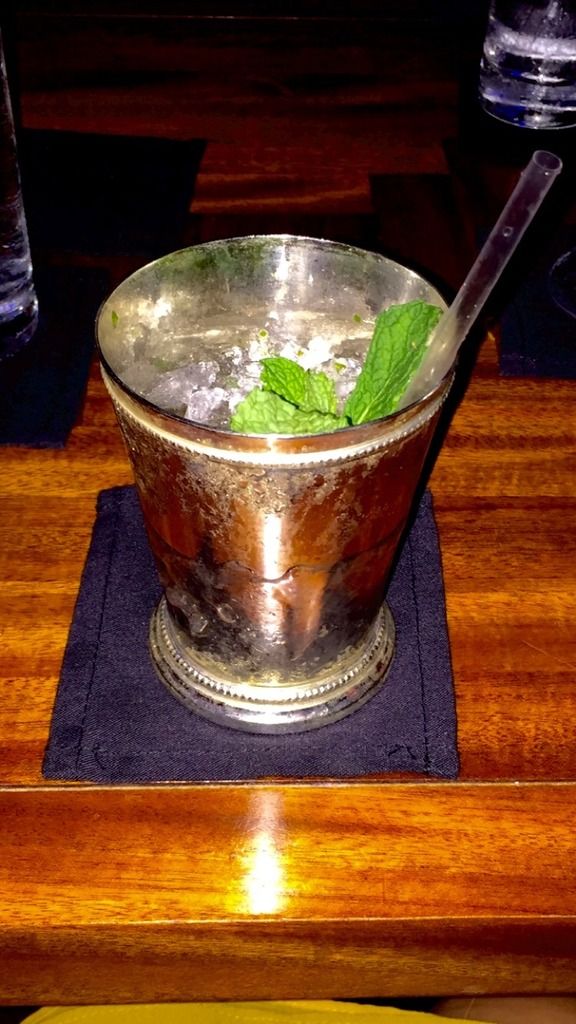 Classic Clover Leaf – (below) gin, fresh raspberry puree, creme de framboise, lemon juice, egg white and simple syrup.
Pisco Sour (by bartender Annie) – (below) Pisco, lemon, simple syrup, egg white and aromatic bitters.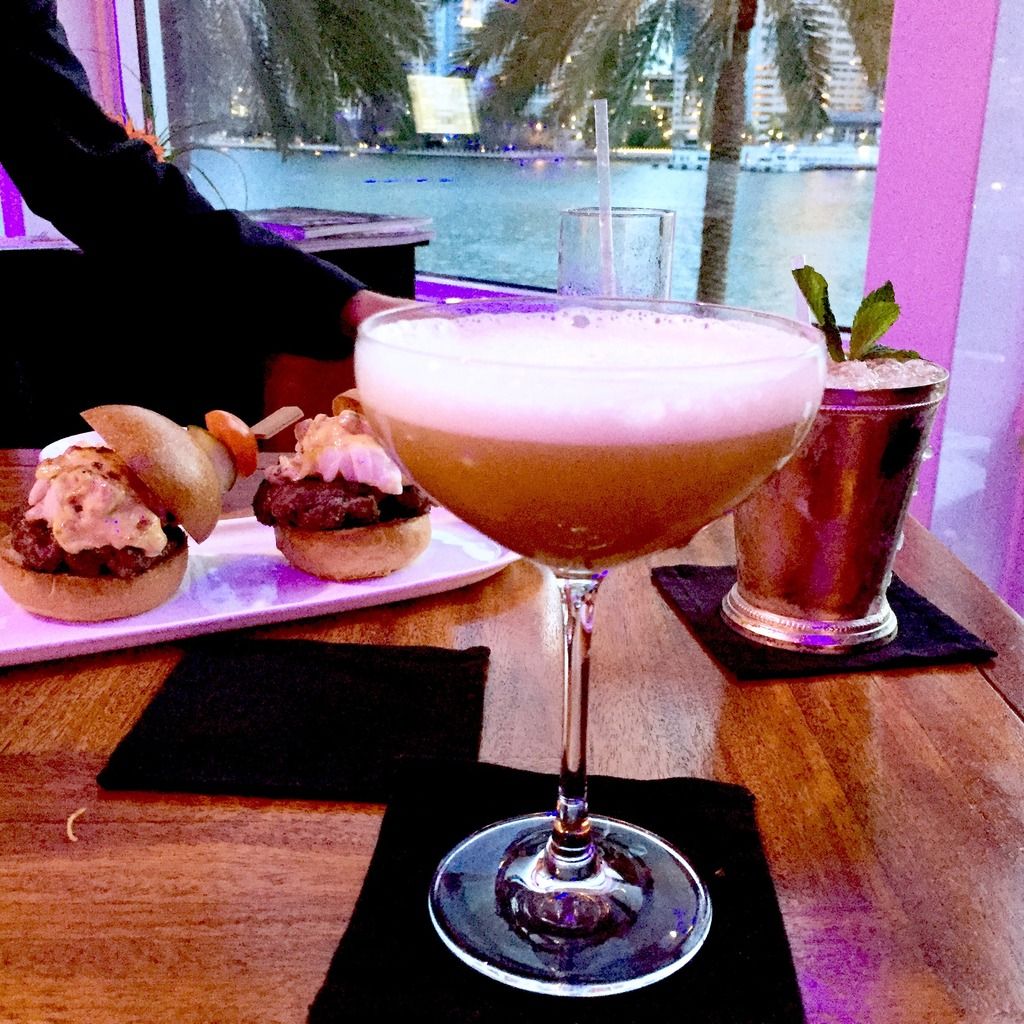 Purple Haze – (our favorite, below) pear vodka, St. Germain, lychee and hibiscus juice and rose champagne, garnished with a candied hibiscus stuffed with lychee.
Aji Rocoto & Pineapple "Margarita – (below, special cocktail for Bar Spice) tequila reposado, homemade rocoto-pineapple mermelada, house citrus cordial and lime, served with a Tajin rim (warm and smoky).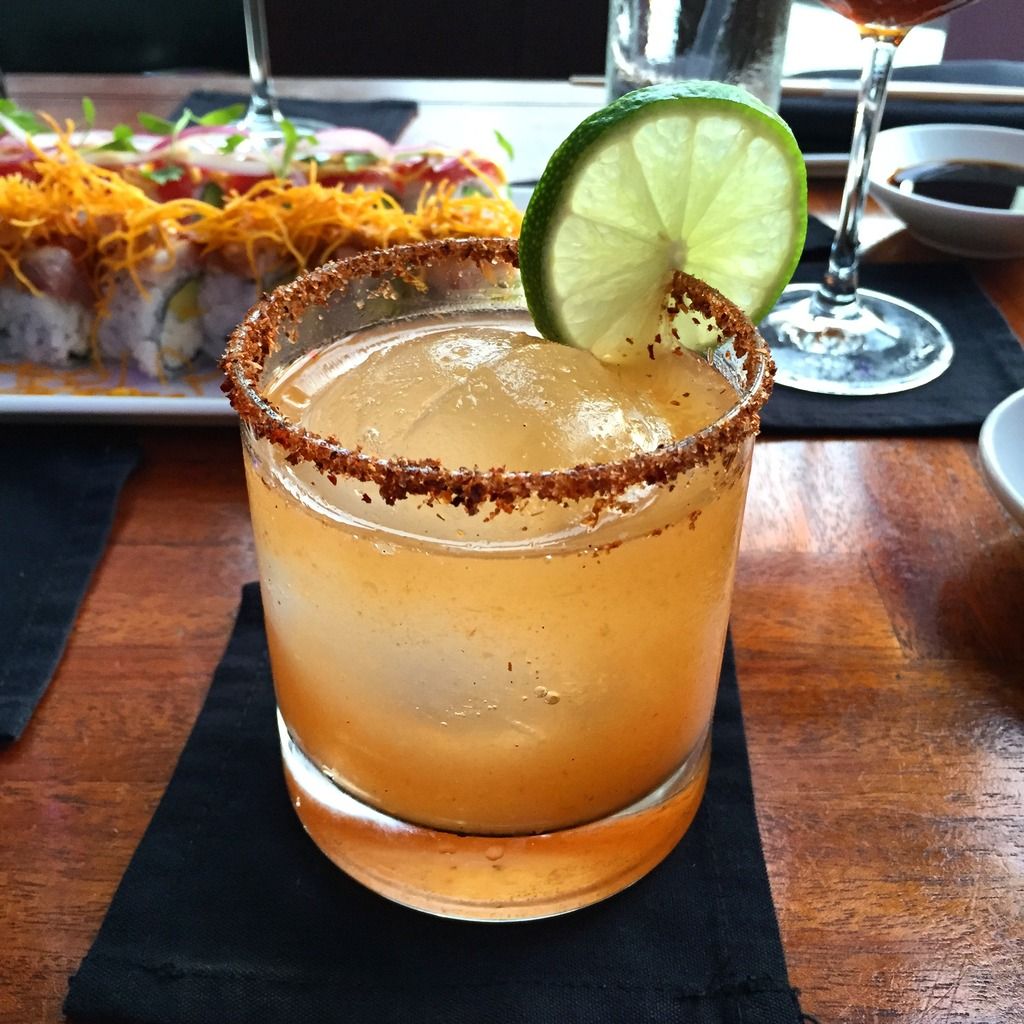 The Scene: The crowd at MO Bar + Lounge is a refreshing blend of young, trendy urbanites and a more mature, affluent audience. On any given night you'll see couples from their 20s to their 50s cozied up on couches, or best friends swapping sips and work stories at the high-top tables. Something about the VIP service, the faint lounge music playing in the background, and that magnificent view of the river make you feel like you're living the good life, and MO Bar's crowd is reflective of that.