13 things to do in Miami this weekend – June 10-12
Friday, June 10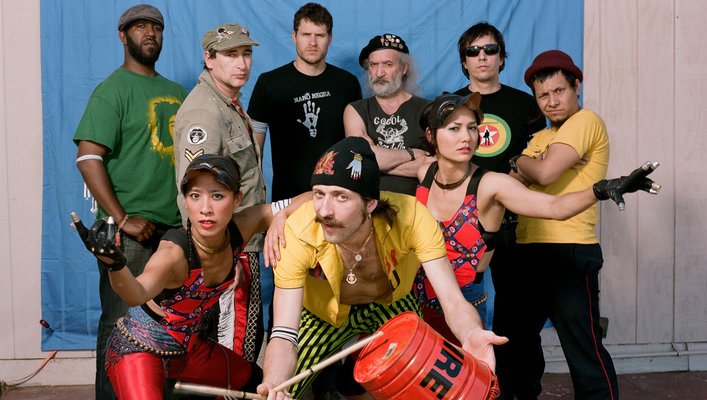 "GYPSY PUNKS"
GOGOL BORDELLO
Theatrical Manhattan band led by singer and actor Eugene Hutz mixes cabaret with debauchery, finding humor in the darkest of subjects and giving it all a surreal spin with outlandish costumes. You'll hear tracks from the group's six studio albums, the latest of which is 2013's "Pura Vida Conspiracy." British folk singer-songwriter Frank Turner opens.
Details: 7:30 p.m. Friday at Revolution Live, 200 W. Broward Blvd., Fort Lauderdale; www.jointherevolution.net; $29.50.
A REAL STAND-UP GUY
COLIN JOST
See what this baby-faced "Saturday Night Live" co-anchor of "Weekend Update" looks like from the waist down as he demonstrates his deceptively sharp-tongued wit during an evening of stand-up.
Details: 8 and 10:30 p.m. Friday, and 7 and 9:30 p.m. Saturday, at the Fort Lauderdale Improv, 5700 Seminole Way; www.improvftl.com; $22.
MANDATORY WORLD TOUR
WEIRD AL YANKOVIC
The king of comedy spoofs performs new masterpieces including "Tacky" (Pharrell Williams' "Happy"), "Foil" (Lorde's "Royals") and "Word Crimes" (Robin Thicke's "Blurred Lines"), plus tried-and-true faves such as "Eat It" (Michael Jackson's "Beat It"), "Like a Surgeon" (Madonna's "Like a Virgin") and "White & Nerdy" (Chamillionaire's "Ridin'").
Details: 8 p.m. Friday at the Adrienne Arsht Center for the Performing Arts, Ziff Ballet Opera House, 1300 Biscayne Blvd., Miami; 305-949-6722 or www.arshtcenter.org; $39.50-$293.
Saturday, June 11
BBQ BLOWOUT
SMOKE ON THE WATER
Nothing says summer like a massive, family-friendly outdoor party with great music (from the Schools of Rock), cold beer (both craft and standard, for Mom and Dad), delicious barbecue (including a pit-master competition) and plenty of fun activities for the kids.
Details: 11 a.m.-6 p.m. Saturday at Esplanade Park, 400 SW 2nd St., Fort Lauderdale; www.goriverwalk.com; free, beer garden $25 for 21 and up.
THREE-YEAR ANNIVERSARY
FUNKY BUDDHA BREWERY
South Florida's biggest brewery celebrates a banner year with an all-day brouhaha featuring nearly 100 exotic craft beers on tap (gotta try the award-winning Maple Bacon Coffee Porter, plus the new Salty Buddha), yummy food trucks and groovy live music by Brotherly Love Productions. Cheers!
Details: 2-10 p.m. Saturday at Jaco Pastorius Park, adjacent to the Funky Buddha Brewery, 1201 NE 38th St., A1, Oakland Park; www.funkybuddhabrewery.com; $8, 21 and up.
AUTHOR EVENT 
BRAD MELTZER 
New York Times bestselling author and North Miami Beach Senior High grad discusses his latest political thriller, "The House of Secrets" (Grand Central Publishing, $28). Fun fact: During Star Wars Night last year at a Marlins/Mets game, Meltzer threw out the first pitch, then fought Billy the Marlin in a light-saber battle.
Details: 5 p.m. Saturday at Books & Books, 265 Aragon Ave., Coral Gables; 305-442- 4408 or www.booksandbooks.com; free.
DYNAMIC DUO
JOURNEY & THE DOOBIE BROTHERS
Journey, with new singer Arnel Pineda, performs timeless hits including "Wheel in the Sky," "Any Way You
Want It," "Open Arms," "Lights," "Who's Cryin' Now," "Faithfully" and, of course, "Don't Stop Believin'," while the Doobie Brothers crank out hits including "China Grove," "Listen to the Music," "Long Train Runnin'," "Takin' It to the Streets" and "What a Fool Believes." Opening act: Dave Mason.
Details: 7 p.m. Saturday at the Perfect Vodka Amphitheatre, 601 Sansbury's Way, West Palm Beach; LiveNation.com; $25-$139.95.
DETOUR TOUR
CYNDI LAUPER
Grammy-winning musical chameleon, who made her name with new wave and pop songs such as "Girls Just Want to Have Fun," "Time After Time," "True Colors," "All Through the Night" and "She Bop," takes a major detour into the world of country with her 11th studio album, "Detour," which features classic twangin' songs from the '40s through the '60s.
Details: 7 p.m. Saturday at Mizner Park Amphitheatre, 590 Plaza Real, Boca Raton; www.myboca.us; $39.50-$69.50.
THE REVIVAL TOUR
SELENA GOMEZ
Disney princess is all grown up now, and performs hits including "Come & Get It" and "The Heart Wants What it Wants," plus platinum smashes from her new album "Revival" such as "Good For You," "Same Old Love" and "Hands to Myself." Opening are Joe Jonas' new band DNCE ("Cake By the Ocean") and "The X Factor" singer Bea Miller.
Details: 7:30 p.m. Saturday at the AmericanAirlines Arena, 601 Biscayne Blvd., Miami; Ticketmaster; $36.50-$96.50.
BLAST FROM THE PAST
TOMMY JAMES & THE SHONDELLS
Take a trip down memory lane with this legendary '60s rock band that gave us the enduring hits "Crimson and Clover," "I Think We're Alone Now," "Mony Mony" and "Crystal Blue Persuasion." The Grass Roots ("Let's Live for Today," "Midnight Confessions," "Sooner or Later") opens.
Details: 8 p.m. Saturday at the Pompano Beach Amphitheater, 1806 NE 6th St., Pompano Beach; Ticketmaster; $33-$73.
SOUTH FLORIDA JAZZ
STEVE TURRE SEXTET
One of the most prolific living trombonists in America – and member of the Saturday Night Live Band for the past 32 years – presents The Bones of Art, a thrilling tribute to legendary hard-bop drummer and bandleader Art Blakey and The Jazz Messengers, of which Turre was a member.
Details: 8 p.m. Saturday at the Rose and Alfred Miniaci Performing Arts Center, 3100 Ray Ferrero Blvd., Fort Lauderdale; www.southfloridajazz.org; $40, $10 students.
Sunday, June 12
ONE NIGHT ONLY
DICK GREGORY
As the political climate heats up in anticipation of the polarizing 2016 presidential election, check out one of America's most beloved political comedians and civil-rights activists, about whom Bill Clinton once raved: "I love Dick Gregory. He is one of the funniest people on the planet."
Details: 7 p.m. Sunday at the Fort Lauderdale Improv, 5700 Seminole Way; www.improvftl.com; $22.
Next Week
MODERN-ROCK TEAM-UP
WEEZER & PANIC! AT THE DISCO
Clever L.A. alt-rock band Weezer performs perfectly melodic anthems such as "Buddy Holly," "Undone – The Sweater Song," "Say It Ain't So," "Island in the Sun," "Beverly Hills," "Hash Pipe" and the new "Thank God For Girls" and "King of the World." Theatrical emo-pop-punk band Panic! at the Disco co-headlines, performing hits including "I Write Sins Not Tragedies," "Miss
Jackson" and the new tracks "Hallelujah," "Victorious" and "Emperor's New Clothes" from its chart-topping fifth studio album, "Death of a Bachelor."
Details: 7 p.m. Tuesday at Bayfront Park Amphitheatre, 301 Biscayne Blvd., Miami; LiveNation.com; $30.75-$70.25.
BENEFIT CONCERT
ECUADOR EARTHQUAKE RELIEF
Join one of Miami's favorite sons as Jon Secada gives his time and prodigious talent to a great cause, along with the Area Stage Company Coaching Staff and Conservatory students, in an amazing evening featuring classics from the American musical theater repertoire.
Details: 8 p.m. Thursday at Area Stage at the Riviera  Theatre, 1560 S. Dixie Hwy., 103, Coral Gables; 305-666-2078 or www.areastagecompany.com; $50-$100.
free for all
SUMMER MUSIC FESTIVAL
NOON-6 P.M. SATURDAY: The City of Deerfield Beach's annual family-friendly event features live local bands and DJs, a kids' Fun Zone, water slides, arts & crafts, a Wing Warrior contest, and food vendors; Oveta McKeithen Recreational Complex, 445 SW 2nd St., Deerfield Beach; www.deerfield-beach.com.