Visit the Everglades like a tourist on an airboat and eat frog food
Use this itinerary to spend a day in the Everglades as any tourist should: skimming the shallow waters by airboat, exploring the park by tram and sampling frog and fish food fare.
By Miami.com Staff7/14/2016
US 41, better known as Tamiami Trail, runs along the northern boundary of Everglades National Park and through the neighboring Big Cypress Reserve. If you're coming from the west coast, you'll also take this road to get to the more central and eastern attractions. Tamiami Trail is tourist central—a long, multiple-stop shop for Everglades entertainment. Colorful roadside billboards hawk airboat rides, alligator wrestling shows and restaurants that serve frog legs and catfish. Bring the whole family and get ready for the glory of the Glades and its roadside attractions.

Early Morning

Robert Is Here...

A FRESH START

You don't want to head into the wilderness with an empty stomach, so grab something quick and nutritious breakfast at the famed, family-owned Robert is Here fruit stand. You won't find traditional breakfast grub, but you will find tropical and exotic fruits, plus jams, jellies, marmalades, pickles and sauces made from papaya, mango, kiwi, boysenberry, gooseberry, crabapple and so many more. Sample star fruit, egg fruit, mamey, or Monstera Deliciosa, a pineapple-like fruit that looks like a large green ear of corn. Buy by the piece or in bulk.

In South Florida souvenir tradition, Robert has everything key lime – butter, chutney, honey, jam, and even mustard. Don't leave without trying the fruit milkshakes, made fresh from real fruit and served in large cups for $3 (key lime and strawberry are the most popular). As you sip your shake, wander out back to the animal farm to see Harold the macaw, goats, donkeys, emus and turkeys.

(Robert is Here - 19200 SW 344th St., 1.5 miles from U.S. 1 in Florida City; 305-246-1592; Open 8 a.m.-sunset.)



Late Morning


TRAM TREAT

If you're coming from the eastern coast of Florida, catch the first tram tour at the Shark Valley Visitor Center off Tamiami Trail at 9:30 a.m. The two-hour guided tram ride takes visitors on a 15-mile loop through vast stretches of sawgrass prairie and stops at a 65-foot tall observation tower with unobstructed views of the horizon. During the summer rainy season, you'll have to search for alligators hiding in culverts alongside the trail and have your camera poised to snap the sight of great blue herons, white ibises, egrets and other birds. But in the winter's dry season, the tram dodges dozens of gators stretched along the main road. Good news: the gators are sunbathing to keep warm and are normally not aggressive. In winter, you can catch flocks of birds wading through shallow waters. Tour guides identify plants and wildlife along the way while sharing some environment science and history of Everglades natives. If you prefer traveling at your own speed, you can also rent bikes for $6.25/hr. to ride along the tram road or hike on two short trails near the visitor center.

(Shark Valley Visitor Center and Tram Tours – U.S. 41/Tamiami Trail 25 miles west of the Florida Turnpike exit for S.W. 8th Street in Everglades National Park, 305-221-8776 for Visitor Center open 9 a.m.-5 p.m., 305-221-8455 for Tram Tours; Tours at 9:30 a.m., 11 a.m., 1 p.m. and 3 p.m., $14.50 per adult and $8.75 per child; Everglades National Park admission $10 per vehicle - valid for 7 days at every entrance.)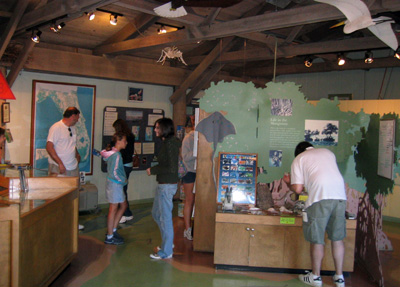 GETAWAY GATEWAY

If you're coming from the western coast, you might want to make your first stop in Everglades City at the Gulf Coast Visitor Center. Known as the gateway to the Ten Thousand Islands, this area offers easy access to the Wilderness Waterway and other canoe trails, plus plenty of kayak, canoe and paddleboat rentals. Take a 6-person boat through the mangrove trails starting at 9 or 11 a.m. or catch one of the larger boat tours that start at 9:30 a.m. and depart every hour until 5 p.m. Everglades City is also the best place to find food and lodging on the west end of Tamiami Trail.

(Gulf Coast Visitor Center - 5 miles south of U.S. 41/Tamiami Trail on State Road 29, in Everglades City; 239-695-3311; Open 9:00 a.m. to 4:30 p.m. daily May-October and 8:00 a.m. to 4:30 p.m. daily November-April.)



Midday


TAMIAMI EATS

As you drive out of Shark Valley, hang a left and pull into the Miccosukee Restaurant right across the road. This restaurant, owned by the Miccosukee tribe and part of their Indian Village, offers Everglades cuisine: frog legs, catfish, hush puppies and native delicacies such as fry bread and sofkee, a drink made with rice. Less adventurous eaters can fill up on hamburgers, chicken and fish. Most meals range from $10-$15.

(Miccosukee Restaurant – Mile marker 70 on U.S. 41/Tamiami Trail 25 miles west of the Florida Turnpike; 305-223-8380 Ext. 2374; Open 8 a.m.-4 p.m.)


Afternoon


GOING NATIVE

If you had lunch at the Miccosukee Restaurant, then take some time to explore the Indian Village. Visitors here can watch demonstrations of Miccosukee basket weaving, patchwork, doll making and woodworking. Cruise the gift shop for souvenirs and handicrafts, or watch daring trainers sit atop gators, prying their jaws open and showing how the Miccosukee are taught to capture them in the wild. The tribe's museum shares the history of the tribe with photographs, artifacts and rotating exhibits. For an additional $10, take an airboat ride through the sawgrass canals, passing by an Indian camp of historic thatched chickee huts.

(Miccosukee Indian Village – Mile marker 70 on U.S. 41/Tamiami Trail 25 miles west of the Florida Turnpike; 305-223-8380; Open 9 a.m.-5 p.m. Admission $10 adult, $5 child, Airboat tour $10.)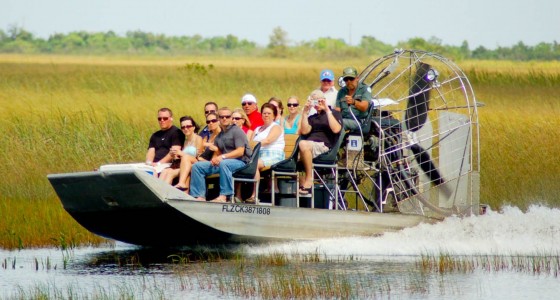 SAWGRASS SAFARI

If you skipped the airboat at the Miccosukee village, then try it at one of the other attractions along Tamiami Trail. Airboats, flat-bottomed boats powered by a car or plane engine and propelled by a massive fan, seem to hover above the water as they zoom through the sawgrass. These boats are loud and passengers sit in full sun, so be sure to bring earplugs or cotton balls and plenty of water to withstand the heat. First-time riders will enjoy zipping through watery alleys lined with swaying sawgrass and peering into the dark marsh for a glimpse of wildlife—birds, insects, snakes, turtles, and gators. The best airboat tours have knowledgeable guides who make the trip more than a thrill ride. We recommend a ride at Coopertown, which has operated since 1945 with an ironclad satisfaction clause: If you don't make it back, you don't have to pay. At $19, the Coopertown boats are a bit pricey, but drivers share stories about wildlife encounters and the Everglades environment. Plus, the ride doesn't feel rushed at about 40 minutes long. Admission includes access to the back pens, where you can visit live alligators. Handlers here will let you hold baby gators for photo ops if you like. Like most airboat operators, Coopertown has a restaurant, gift shop and bait shop.

(Coopertown Air Boat Rides and Restaurant - 1 miles west of Florida's Turnpike on US-41/Tamiami Trail, 305-226-6048.)

Evening


A GOOD BET

After a long day in Florida's wilderness, you might be craving something a bit closer to civilization. Keep traveling east on Tamiami Trail until you hit Krome Ave. (S.W. 177th Ave.), where you'll find Miccosukee Resort & Gaming. Hungry? There are five different dining options, including Café Hammock, which dishes up a much-talked-about steak and lobster dinner for just $6.95. Empeeke-Cheke serves venison, frog legs, wild boar, buffalo and, of course, alligator in an intimate setting with a full bar. For a more casual dining experience, try the resort's international buffet, buy sandwiches and burgers at the 24-hour deli, or grab a fresh-made salad and hot meal at the Bingo Snack Bar. The 24-hour casino has more than 1,400 video pull-tab and lotto machines, 58 poker tables and high stakes bingo, plus a supervised arcade for kids 12 and under. Not a gambler? Dance to live music at the Cypress Lounge, catch a sports game on the screens of Gator Bar, grab a nightcap and cigar at Martini Bar, or check for concerts or boxing matches in the entertainment dome.

(Miccosukee Resort and Gaming – 500 S.W. 177th Ave.,305-925-2555 or Call 877-242-6464 for reservations. Empeeke-Cheke: open 6 p.m.-11 p.m., Empeeke Aaweeke: open 6 p.m.-midnight, Empeeke Aya: open 24 hours daily, Café Hammock: open 24 hours daily.)


Click to see A nature-lover's day in the Everglades
Click to see Preparing for the Everglades
Back to The Everglades: Choose Your Adventure